GBPI Fall Policy Forum 2015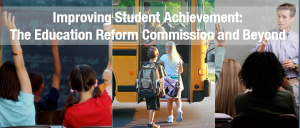 Please mark your calendar for our Oct. 27 forum, "Improving Student Achievement: The Education Reform Commission and Beyond" hosted by the event's co-sponsor, the Metro Atlanta Chamber of Commerce from 8:30 a.m. to noon. Registration is now open!
Steve Dolinger, president of the Georgia Partnership for Excellence in Education, will provide an overview of changes contemplated by the governor's Education Reform Commission.
We'll feature an expert panel to discuss K-12 education funding, with Gwinnett County Schools Superintendent J. Alvin Wilbanks, state Sen. Lindsey Tippins, R-west Cobb, and Michael Griffith, senior policy analyst, Education Commission of the States.
Pre-Kindergarten's role in education in Georgia is a hot topic and the forum will feature three leading voices for a panel discussion of challenges and opportunities. The Pre-K panelists are Mindy Binderman, executive director of Georgia Early Education Alliance for Ready Students, Montreal Bell, coordinator of Pre-K and Remedial Program for Fulton County Schools and Wande Meadows, co-director of Little Ones Child Care Learning Center.
Interested in sponsoring this timely and informative program? Sign up today for an opportunity to provide special recognition for your organization. For more information, please contact Jessica Hood at jhood@gbpi.org or 404.420.1324 ext. 104.
Bertis and Katherine Downs