GBPI Fall Policy Forum 2015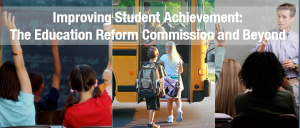 Save the date for the GBPI Fall Policy Forum on Oct. 27, 2015! Please mark your calendar for our October forum, "Improving Student Achievement: The Education Reform Commission and Beyond," at the Metro Atlanta Chamber of Commerce from 8:30 a.m. to noon.
Steve Dolinger, president of the Georgia Partnership for Excellence in Education, will provide an overview of changes contemplated by the state education reform commission. Also joining our program are J. Alvin Wilbanks, Gwinnett County Schools superintendent, and state Sen. Lindsey Tippins, chair of his chamber's Education and Youth committee. Keep an eye out for future announcements of our full lineup of panelists set to discuss education funding and early childhood education issues.
Interested in sponsoring this timely and informative program? Sign up today for an opportunity to provide special recognition for your organization. For more information, please contact Jessica Hood at jhood@gbpi.org or 404.420.1324 ext. 104.