GBPI 10th Anniversary Possibility Gala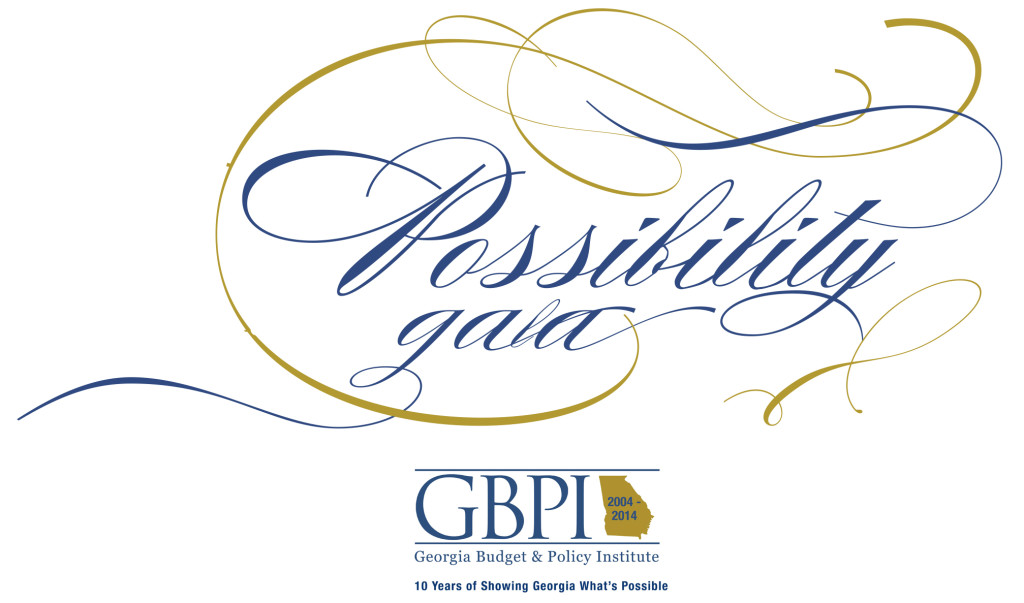 The Georgia Budget and Policy Institute is celebrating its 10th anniversary this year. For ten years, we have been showing Georgia what's possible to improve our schools, make health care accessible and affordable, protect and strengthen the safety net that keeps so many families out of poverty, and share ideas and solutions to create an economy that works for everyone.
In honor of the occasion, we invite you to join us for an exceptional evening of celebration. On Thursday, October 2, 2014, GBPI will be hosting the Possibility Gala at the beautiful Foundry at Puritan Mill in Atlanta.
The evening will feature cocktails and dinner, and honor the following individuals who are champions for "the least among us":
Jack Hardin – Mr. Hardin is a community leader in advocating for services for the homeless in Atlanta. He is Co-Chair of the Regional Commission on Homelessness, President of the Georgia Legal Services Foundation, Chairman of Gateway, LLC, a homeless services center, Chairman of the Board of Visitors of Grady Hospital, among others. Mr. Hardin is a partner at Rogers-Hardin law firm.
George Hooks- Senator Hooks served in the General Assembly for 32 years before retiring in 2012 as Dean of the Senate. Senator Hooks served as chairman of the Senate Appropriations Committee from 1993 – 2003. His passion for Georgia history has led him to be one of the leading advocates for historic preservation.
Pat Puckett – As Executive Director of the Statewide Independent Living Council Ms. Puckett is one of the leading advocates in Georgia for people with disabilities. She is an active member of many state and national organizations working to accomplish inclusive disability policy and services. Ms. Puckett was also a founding board member of GBPI, eventually serving as Board Chair.
We will also recognize the leadership of policymakers from both sides of the aisle who have shown exemplary leadership on core GBPI issues:
Senator Charles Hufstetler (R-Rome) was elected in 2012 and is Vice-Chairman of the State and Local Government Committee and a member of the Education and Youth, Health and Human Services and Science and Technology committees. He received his Masters in Medical Science in Anesthesiology from the Emory School of Medicine and currently practices at Redmond Regional Hospital. Senator Hufstetler has fought to decrease barriers to the expansion of Medicaid and works diligently to educate his colleagues and community on this important issue.
Representative Calvin Smyre (D-Columbus) was elected to the Georgia House of Representatives in 1974 as the youngest member at the age of 26 and has provided leadership to numerous House Committees, including Appropriations and Rules. Outside of the Gold Dome, he has worked as a community organizer, Director of the "War on Poverty" program In Columbus and as a Corporate Executive with Synovus and President of the Synovus Foundation. Representative Smyre is a longtime advocate of GBPI's mission and values.
We invite you to be a part of this landmark evening.  Sponsorship and host information.