Our Vision
T
he Georgia Budget and Policy Institute is working to build a more inclusive economy so that everyone can participate and thrive. We believe Georgia can be a state where everyone has a chance at a decent job so they can raise a family, can go to a doctor when they get sick and attend great public schools. We offer thoughtful analysis and responsible solutions to improve the state's budget, taxes and public policies. We are working to help Georgians reach their full potential.
Spotlight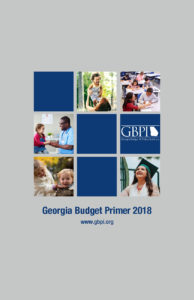 Where does the money for Georgia's $25 billion budget come from this year? How has the new transportation funding package affected state revenue? Is Georgia finally funding K-12 education at the level called for in its own formula?
GBPI's "Georgia Budget Primer 2018" answers these questions while providing clear explanations of the state's revenue collections and spending plan. The guide breaks down complex topics and serves as an authoritative reference during the 12-month fiscal year that started July 1, 2017. Learn more about the state budget.