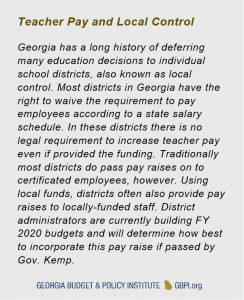 In the 2019 legislative session Georgia lawmakers committed more than half a billion dollars to increase pay for teachers from Pre-K through 12th grade. Legislators intend for the allotment to increase salaries for certified teachers by $3,000 beginning July 1, 2019. This significant investment acts as a down payment toward a $5,000 raise that Gov. Kemp promised during the 2018 campaign for all of Georgia's public school teachers.[1] Paired with a second consecutive year of providing school districts the full amount promised under the Quality Basic Education formula, the pay raise signals that the Georgia General Assembly continues to make important strides toward delivering students and school districts the resources they need to succeed.
While the most expensive, the $3,000 raise is not the only important budget change that took place this legislative session. Below is a recap of the education funding changes in the FY 2020 state budget and what is on the horizon for the state's public school system in the coming year.
Additional Investments in Georgia's Public Schools
The $3,000 pay raises will require $529.8 million from the state general funds for K-12 teachers and certified employees and $15 million of lottery proceeds to pay for Pre-K teachers and certified employees. The additional funds will provide raises for about 146,000 K-12 teachers and 4,100 Pre-K teachers, as well as school counselors, school social workers, school psychologists, media specialists, special education specialists and technology specialists.[2] The General Assembly also designated $3.7 million for merit-based pay adjustments and 2 percent salary increases for employees across the Department of Education. State lawmakers also allotted $1.5 million of lottery proceeds for a 2 percent pay increase for assistant Pre-K teachers. The FY 2020 budget, pending any line-item vetoes from Gov. Kemp, allocates a total of $550 million toward these wide-ranging pay increases for teachers and school employees across the state.
Several programs received more funding in the FY 2020 budget:
$2 million for charter school facilities grants per House Bill 430 (2017 session)
$1 million for grants for schools to offer feminine hygiene products for low-income students
$1 million transferred from the Governor's Office of Student Achievement (GOSA) for more high school counselors in Title I schools
$1 million for grants for school systems with smaller enrollments that results in difficulty maintaining required fixed costs (sparsity grants)
$600,000 from GOSA and $150,000 of state general funds to provide professional development for computer science teachers
$413,000 to increase funds for Regional Education Service Agencies that continue to operate under significant austerity cuts
$200,000 to expand the Communities in Schools model of wraparound supports to new schools
$100,000 for a two-year pilot for early reading assistant programs for students displaying at-risk factors for dyslexia per Senate Bill 48[3]
Funds Shift from Governor's Office of Student Achievement to Department of Education
The proposed FY 2020 budget includes more than $5 million transferred from GOSA to the Department of Education to pay for services like Advanced Placement testing or additional counselors in low-wealth schools. By shifting these funds legislators counter a decade-long trend of rapid growth in GOSA's budget.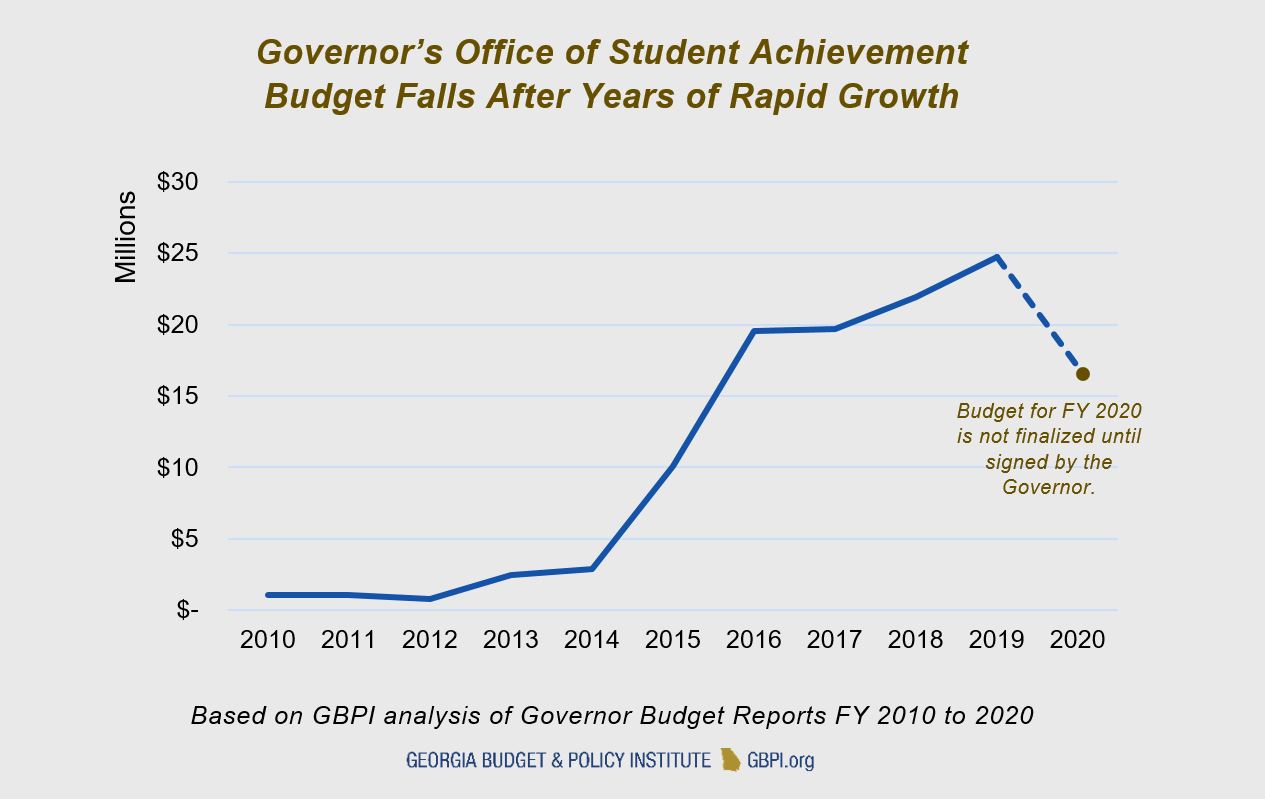 If the budget passes as written, it would be the most significant budget cut to GOSA since the office's creation under Gov. Barnes at the turn of the millennium.
Budget Highlights Need to Address Small School Districts' Financial Challenges and Non-Teacher Retirement Benefits
The budget language attached to the sparsity grants mentions the need to produce a plan for updating the grant. This language is welcome news for school districts that struggle to run a financially stable school system due to low and/or declining student enrollment. Lawmakers have an opportunity to provide much-needed relief for districts that cannot rely on the robust property tax revenue of their higher-wealth counterparts.
The State Senate added $1.6 million to the Public School Employees Retirement System (PSERS) to increase funds for non-teacher retirees. For many public school employees, PSERS is the only retirement benefit provided by the state. Even with the added revenue, a school bus driver who drove for 20 years will receive only $310 a month from this system.[4] The Senate's addition is a necessary first step in doing right by the employees across the public school system that cannot partake in the teachers' and school administrators' strong pension program. Future legislative sessions ought to recommit funds to these essential employees.
[1] Salzer, J. (2019, January 19). Kemp calls for $3,000 teacher raise, 2 percent for Georgia employees. The Atlanta Journal-Constitution. Retrieved from: https://www.ajc.com/news/state–regional-govt–politics/kemp-calls-for-000-teacher-raise-percent-for-georgia-employees/VhoSZPdQaWVW7vDd5Hz0ZP/
[2] HB 31 (FY 2020G) – Conference Report
[3] Program funding based on an analysis of HB 31
[4] Based on the multiplier being changed to $15.50 in the FY 2020 budget