More than 170,000 Georgians have lost access to health care coverage since Medicaid unwinding began in April. More than 90% of those who lost coverage have lost it for procedural reasons, which means they are likely still eligible but are denied coverage due to a human or technological error in the renewal process. Signs indicate that most of those getting caught in this red tape are children and their families. About 69% of all Medicaid/PeachCare enrollees are Georgians 18 years old or younger, and in June (the only month for which the age breakdown has been made publicly available), over 63,000 children—from babies to teens—lost access to health care coverage. Procedural denials can have serious consequences for Georgia's families, causing temporary losses in coverage that can wreak havoc on their health and financial security. These denials prevent people from seeing a doctor or refilling prescriptions and put them at risk for medical debt. Additionally, these procedural denials can negatively impact the state's bottom line. Georgians who remain eligible for Medicaid but lose coverage are likely to re-enroll, which creates extra work for the state's eligibility caseworkers and results in unpredictable state expenditures.
The Georgia Medicaid Unwinding Grassroots Advocacy Toolkit—created by GBPI, Georgia's Poor People's Campaign and Georgians for a Healthy Future—has been updated with additional resources to help grassroots organizations and other trusted community messengers understand how to direct their outreach.
Medicaid unwinding is impacting Georgians from Waycross to Atlanta to Rome. However, some communities have higher rates of Medicaid and PeachCare enrollment and thus may be at higher risk for coverage losses. Understanding which communities are more likely to be enrolled in Medicaid and PeachCare can guide resource allocation and priority setting as grassroots organizations plan their education, outreach and direct support activities.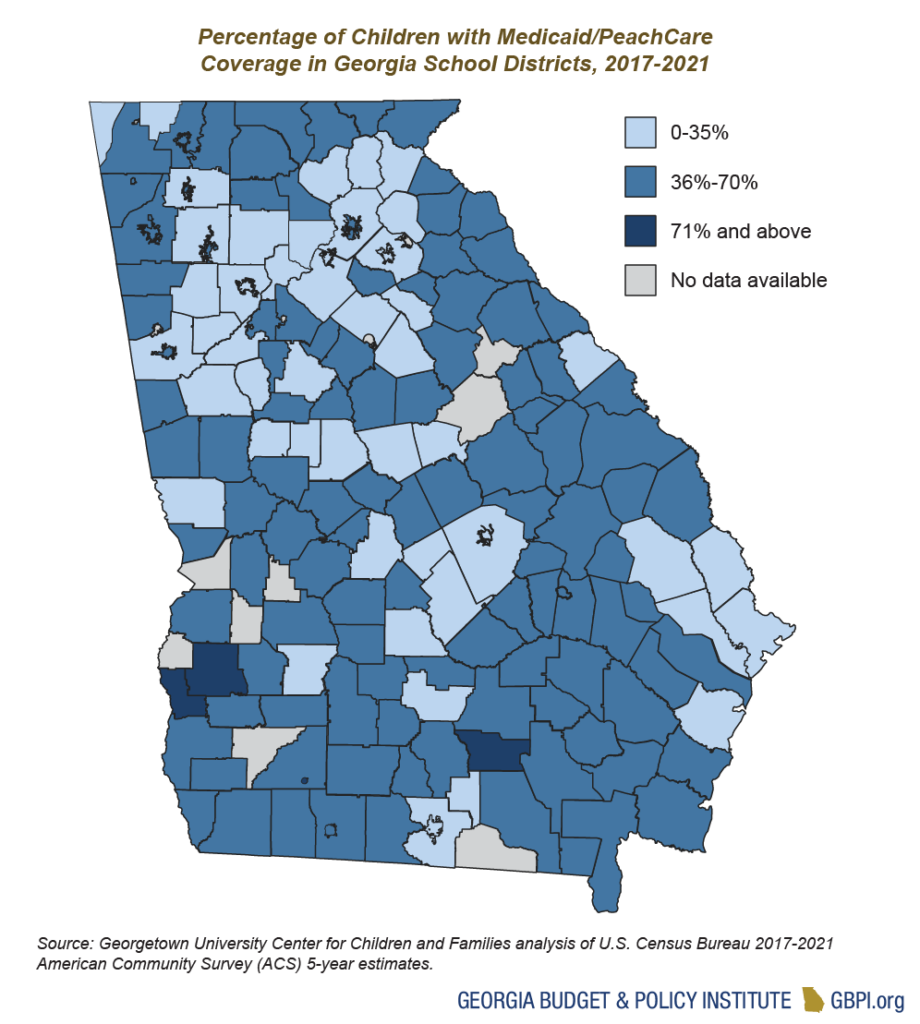 For example, the map to the right can help organizations understand which school districts have the highest Medicaid/PeachCare enrollment rates. On average, across county and city school districts, about 35% of school-age children in Georgia are covered by Medicaid and PeachCare. However, school districts in rural Georgia tend to have Medicaid/PeachCare populations that are higher than the state average, and certain districts — including Randolph, Clay and Atkinson County school districts—are more than double the state average. With school back in session, the fall season presents a new opportunity for trusted messengers in each community to offer education and outreach to families whose Medicaid/PeachCare eligibility is being re-determined.
In addition to providing support to those directly impacted by the Medicaid unwinding, it is also critical that grassroots organizations and others use their voices to push for policy changes that (1) mitigate harm during this year-long unwinding of continuous Medicaid coverage and (2) keep Georgians connected to health care in the long term. Access to high-quality, affordable health care is a critical part of staying healthy and meaningfully participating at home, school, work and in the community. Below is a list of policies that grassroots organizations and others can advocate for to help keep Georgians covered.
What Can Be Done Now To Mitigate the Harm of the Unwinding
Increase automatic Medicaid/PeachCare renewals that do not require action on the part of the enrollee and use existing data to verify eligibility (also known as ex-parte renewals)
Take advantage of additional federal flexibilities to help prevent procedural denials
Increase data transparency to understand better who is losing coverage (e.g., disenrollment data by Medicaid eligibility category, age, county or DFCS region, race/ethnicity, disability status, etc.)
"Unfortunately, Georgia has chosen a much more complicated process to expand health coverage for the few folks who are able to get coverage. Even with Georgia Pathways to Coverage in place, Georgians are still losing their health coverage. Work requirements are insurmountable right now and Georgia families deserve access to care without barriers and having to go through complicated enrollment procedures."
–Knetta Adkins, Georgians for a Healthy Future's Organizing Manager
"Policy is a tool that we all can influence. Advocacy groups, faith communities, individual activists, and grassroot movements like the Poor People's Campaign must work together to lift from the bottom. Collectively we must do M.O.R.E. – mobilizing, organizing, registering people to vote, and educating people on what is happening now, how it impacts them and their community, and what they can do now to be a part of the solution."
–Nina Stephen, Georgia Poor People's Campaign Coordinating Committee Member
What Can Be Done To Keep Georgians Covered in the Long-Term
Fully expand Medicaid to adults with lower incomes without work requirements or cumbersome monthly reporting
Strengthen the frontline eligibility workforce (e.g., investments that bolster professional development, create benefits like paid family medical leave, set competitive starting salaries and improve the system of merit-based raises)
Improve the Medicaid/PeachCare customer experience during enrollment and renewal (e.g., investments that simplify written communication to enrollees and ensure access to high-quality information and support in languages other than English, etc.)
Invest in trusted messengers–like grassroots organizations–that can share critical health messages and provide direct support to Medicaid and PeachCare enrollees