Georgia's 2022 Department of Corrections Budget
The Georgia Department of Corrections (GDC) budget for FY 2022 is $1.12 billion. The department oversees all aspects of the state's prison system, including contracts carried out by private prisons. Corrections officers make up most of the department's workforce.
The most recent reform efforts focus on more cost-efficient spending related to housing people who are incarcerated and improving reentry outcomes for those who are ending their period of incarceration. Since 2012, several major reform bills have been enacted that address issues related to prison length of stay, mandatory minimum sentencing and probation and parole eligibility. Several bills recently passed in the latest Legislative Session provide new reforms as well, including the streamlining of early termination of probation for eligible Georgians.
As reforms began in 2012, the state's prison population was 54,895. After several years of only small fluctuations, the prison population reached 55,047 by 2019. Notably, the prison population saw substantial declines in 2020 that can be partially credited to measures that were taken in response to COVID-19. An increase in early releases and decline in crime and arrest rates over the last year of the pandemic led to a prison population of 46,315 by March 1, 2021. This remaining population is 60 percent Black, 36 percent white and 4 percent Hispanic. Despite budget growth in the department in the years preceding the pandemic, the FY 2022 budget maintains a 7 percent, or $82.9 million, cut to the GDC budget. No federal funding from the ARP has been allocated to the GDC budget.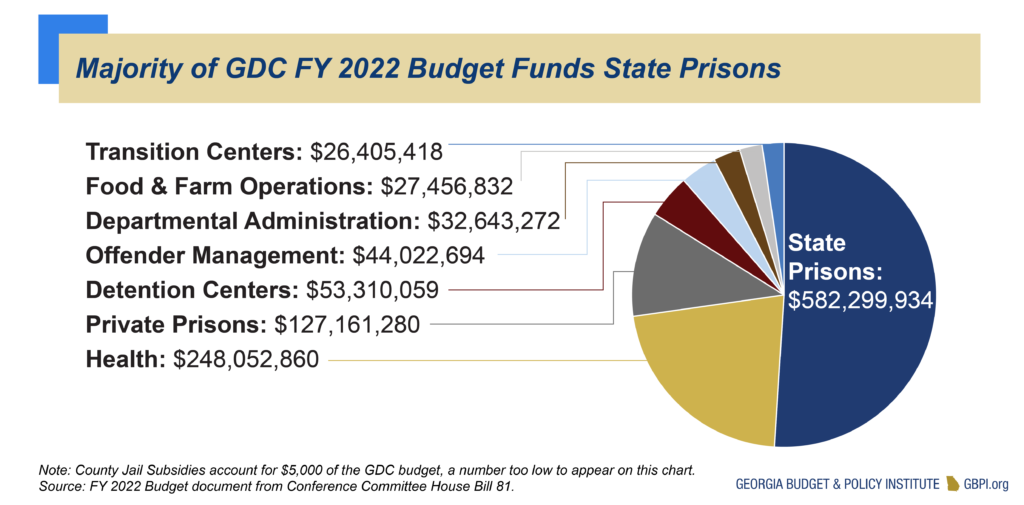 Continued Rising Costs of Correctional Control in Georgia
Georgians under correctional control, as defined by the Prison Policy Initiative, include those in state prison, federal prison, local jail, youth confinement, involuntary confinement, jails in Indian Country or under probation or parole. In 2020, the Department of Community Supervision (DCS) supervised 256,398 people. For every 100,000 Georgians, 3,943 are on probation, ranking Georgia as the leading state for people under correctional control. This represents nearly four times the national rate and at least three times the rate of any other state in the Southeast.
DCS was created in 2015 to take over the state's major re-entry initiatives and oversee its probationers who were sentenced to court-imposed community supervision in lieu of incarceration. The FY 2022 budget allocates $166 million to its operations. Probation, referred to in the budget as Field Services, accounts for 92 percent ($152 million) of the DCS budget. The state's probation budget nearly doubled between 2012 and 2020, but after mandated cuts last year because of revenue shortfalls, budget reductions have been maintained, placing the FY 2022 probation budget $10 million below its pre-pandemic budget. Additional federal funding from the American Rescue Plan Act has yet to be allocated to DCS to shore up operations impacted by the pandemic.