Georgia's Department of Corrections Budget
Georgia's Department of Corrections (GDC) budget for fiscal year (FY) 2024 is $1.33 billion. GDC oversees all aspects of the state's prison system, including contracts carried out by private prisons. Corrections officers make up most of the department's workforce. GDC corrections officers have experienced higher turnover than the Georgia state employee average, which recently exceeded historic highs of over 25 percent but generally less than 30 percent. In comparison, GDC corrections officer turnover rates have ranged from 35 percent in FY 2018 to 57 percent in FY 2021, and then 48 percent turnover in FY 2022.
Bills passed in 2023 further increased funds for incarceration including pay raises geared at employee retention, with FY 2024 becoming a second consecutive year of prison spending growth. In contrast, pre-2020 bills sought to reverse rising incarceration trends, and 2020 and 2021 bills sought better cost-efficiency and improved post-incarceration outcomes.
GDC FY 2024 spending is $48 million higher than FY 2023 spending and more than $200 million higher than FY 2022 spending. This increased investment in corrections, which includes expanding the state- and county-level prison infrastructure fails to address persistent economic inequities across race and ethnicity. It also perpetuates the state's criminal legal system spending imbalances, further weakening its due process functions. Collectively, these spending choices exacerbate the pernicious effects of mass incarceration.
Despite hundreds of millions in new spending, GDC maintains elevated commissary prices implemented in AFY 2020 and FY 2021. These higher costs make it harder for incarcerated Georgians to access basic necessities, placing more economic strain on those who support them.
Georgia's Criminal Legal System Policies Help Maintain Its Leading Incarceration Rate
Per the Prison Policy Initiative, Georgia's incarceration rate, which includes those in prisons and jails and on probation and parole, is 2.5 times higher than the national average. Georgia also has a state legal framework that has allowed at least 26 localities to weaponize their criminal legal systems through abusive fines and fees practices that forcibly extract wealth from Georgians experiencing poverty, at rates that are at least 20 times higher than the national average. Consequently, Georgians experiencing poverty and entangled in fines and fees debt often spiral into probation or incarceration, contributing to Georgia's record rate of correctional control.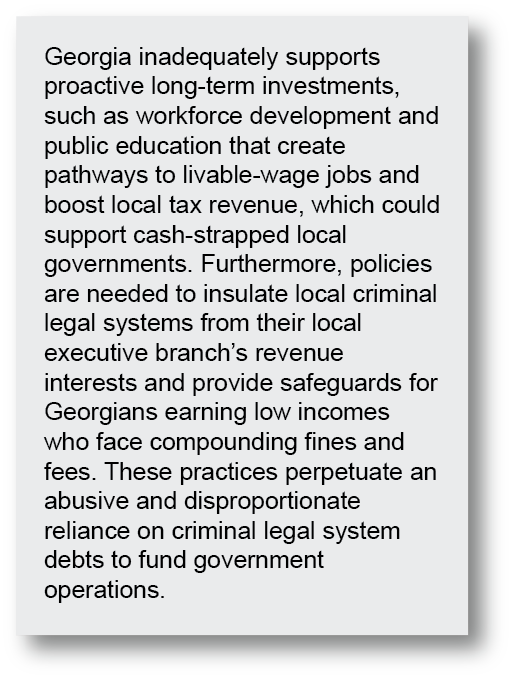 Recent years of accelerated of state GDC spending, coupled with the state's general failure to monitor fines and fees revenue and protect Georgians from instances of local government fine and fee abuse, represent both overinvestment and underinvestment of state resources.
These two contrasting realities ultimately drive Georgia's record-level incarceration. They form a vicious cycle of incarceration of people of color, entangling them with stacking penalties at the local level which are driven by the fines and fees revenue they generate. Economically weak localities are more likely to over rely on that revenue. Those stacking penalties can eventually lead to an individual's incarceration in a GDC facility, driving GDC population and program growth, and triggering more state investment in GDC itself. Georgia must disrupt this cycle and allocate more state funding to equitably support local governments, specifically their court systems, with funding driven by a mechanism like a state opportunity weight for K-12 school districts, with more funding allocated to geographic areas experiencing higher poverty rates.
The state has already shown that it is willing to pursue local intervention in criminal legal systems and unfortunately does so in ways that fuel mass incarceration and racial inequity. For example, recent state-level initiatives have included removing discretion from local law enforcement and prosecutors the state views as "soft" on crime, ultimately leading to heavier penalties like stacking fees, pay-only probation and jail time. These factors further exacerbate expansion of the criminal legal system and grow state spending on GDC.