Higher Education Budget Overview
The Legislature is directing $2.3 billion to the university system and $361 million to the technical college system. About $114 million of the state's General Fund is allotted to the Georgia Student Finance Commission for scholarship, loan and grant programs, including the state's dual-enrollment program, Move On When Ready. In addition, the Legislature appropriated $1.1 billion in lottery funds for education: $364 million for Pre-Kindergarten and $766 million for the HOPE financial aid programs.
Move On When Ready
Move On When Ready is a program for high school students who take college-level courses that count for both high school and college credit or, dual enrollment. The state pays colleges fixed amounts for tuition, mandatory fees and books. Colleges may not charge high school students for additional tuition and mandatory fees, though students may be responsible for course-related fees and transportation costs.
The program is growing. The 2018 state budget added $21 million to meet the projected increase in demand but reduced funds for transportation grants by $500,000. These changes resulted in a budget of $78.8 million.
The state allots $114 million for higher education scholarships, loans and grant programs. Move On When Ready is the largest of these programs. The second-largest are Tuition Equalization Grants at $22.8 million, awarded to residents who attend private colleges in Georgia. The Legislature increased the budget for these grants by $1.6 million to increase the award amount from $900 to $950 per year.
Dual-Enrollment Program is Largest Use of State General Funds for Higher Education Grants and Scholarships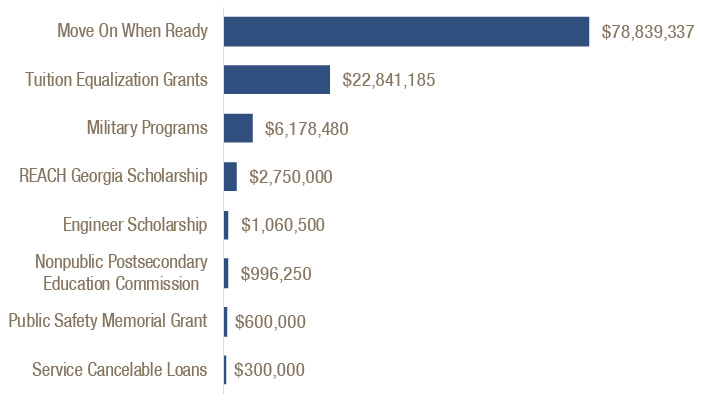 University System of Georgia
The 2018 budget for the university system is $2.3 billion, about one-tenth of the state's General Fund. Georgia allocates $2 billion to colleges and universities for student instruction. The state appropriates money to the Board of Regents, which manages Georgia's public university system and allocates the money among the 28 colleges and universities in the system. The state budget expects student contributions of an additional $2.2 billion in tuition and fees to the university system.
This year's budget represents a 6.3 percent increase in state funding per full-time equivalent student (FTE) from last year. Per-student funding has made modest gains every year since reaching its lowest point in 2012. However, per-student funding is still almost half of what it was in 2001, after adjusting for inflation.
University System Per-Student Funding Recovering, But Still Far Below Pre-Recession Levels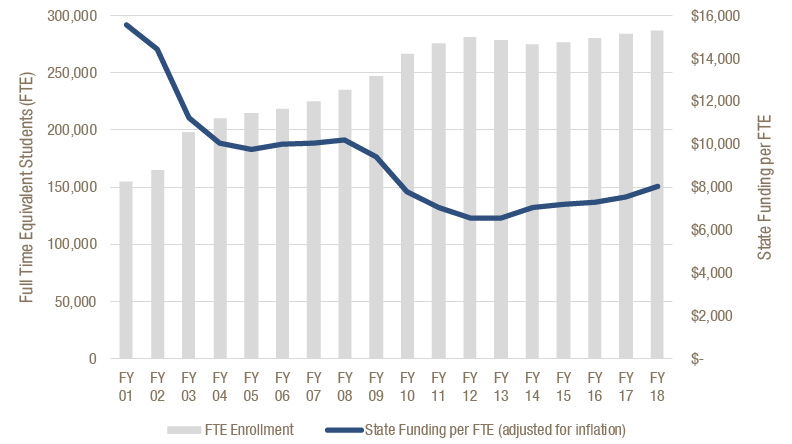 Technical College System of Georgia
The 2018 state budget for technical education is $322 million, representing a 3.2 percent increase from the previous year. The technical college system includes 22 individual colleges with 85 campuses throughout Georgia. Technical colleges provide a range of programs including associate's degree, certificate and diploma programs.
State spending per student is now back to 2006 levels after adjusting for inflation, following a combination of steep funding cuts and enrollment surges during the recession. Workers who lost their jobs during the economic downturn increased technical college enrollments, as budget pressure led the legislature to cut funding in 2011 to the technical college system and to HOPE scholarships and grants.
This year the technical college system experienced a slight decrease in enrollments, continuing the downward trend that started after the sharp decline between 2011 and 2012. Enrollments are now lower than in 2006.
Per-Student Funding back to Pre-Recession Levels, but Enrollment Remains Stagnant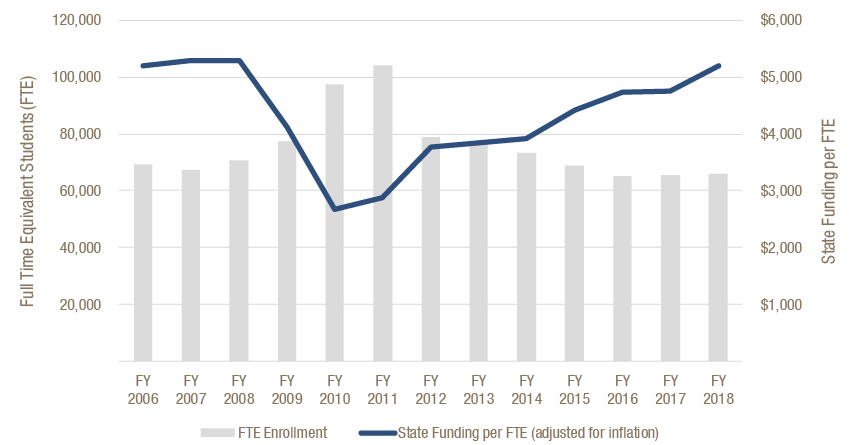 Colleges Rely More on Tuition and Fees
Public higher education in Georgia is funded through a combination of state appropriations, federal grants, tuition and fees. Generally, federal grants support specific research projects, state appropriations and tuition support instruction, and student fees support services such as housing, dining and athletics programs.
The cost of providing higher education is higher than the sticker price students see. State appropriations subsidize this cost in its public colleges and universities, lowering the price for students and families. Within the last decade, Georgia decreased subsidies for higher education. Colleges and universities continue to raise tuition and fees to combat increased budget pressures and higher expectations for quality.
Less state support for colleges shifts costs to students. In 2005, state appropriations per student were more than 3.5 times tuition and fee revenue per student in the university system. Since appropriations fell and tuition and fees rose, these revenue sources are now similar. The 2018 state budget for the university system is $2.3 billion, and Georgia expects students to pay $2.2 billion in tuition and fees.
Student Payments in Tuition and Fees Almost Match State Contributions to University System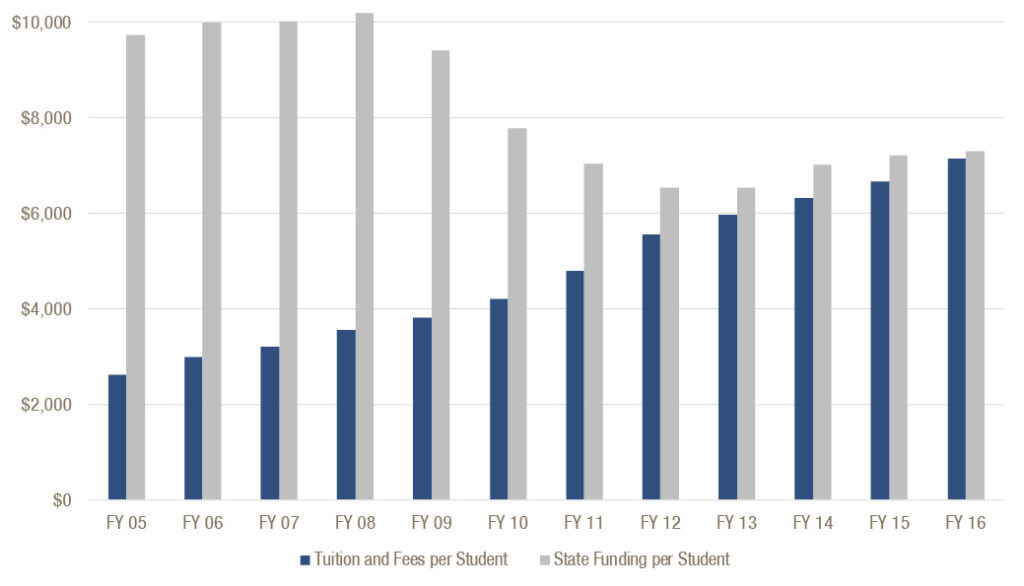 Lottery Funds: Support for Pre-K and College Students
In addition to the state's budget for higher education, Georgia appropriated $1.1 billion from lottery sales to fund the following education programs in 2018:
The Helping Outstanding Pupils Educationally (HOPE) Scholarship is for students pursuing bachelor's or associate's degrees. Scholarship awards increased by 3 percent. These funds include both the partial-tuition HOPE scholarship and the full-tuition Zell Miller Scholarship.
HOPE grants are for students pursuing certificates or diplomas in technical colleges. These funds include the partial-tuition HOPE Grant, full-tuition Zell Miller Grant and supplemental HOPE Career Grant.
HOPE GED grants are one-time awards for students who complete a GED and enroll in postsecondary education.
Student Access Loans provide low-interest loans to college students.
Georgia's Pre-K program is for 4-year-olds to prepare for kindergarten.
Most Lottery Funds for Education Support HOPE Programs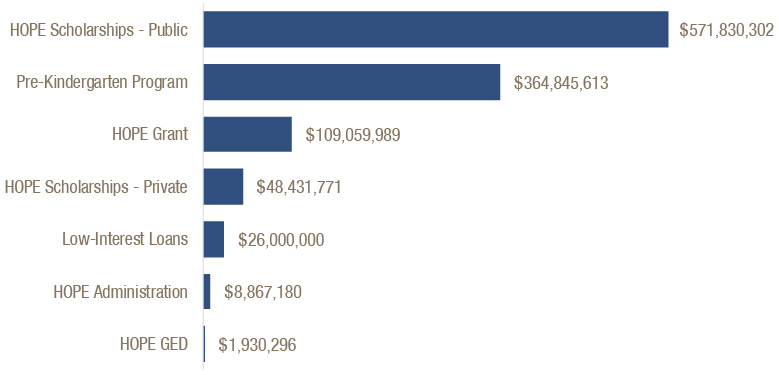 Lottery Reserve Funds
Every year, the Georgia Student Finance Commission awards fewer lottery dollars for HOPE programs than the state appropriates. These appropriated but unspent lottery funds are transferred to reserves managed by the State Treasury.
Similar to the Revenue Shortfall Reserve fund, the Lottery Shortfall Reserve acts as a rainy day fund to make up for any future shortfalls in lottery revenue. If lottery ticket sales underperform and net lottery proceeds (the amount used for education programs) fall short of the appropriated amount, the lottery shortfall reserve can bridge the funding gap. The shortfall reserve is required to hold an amount that is equal to 50 percent of the previous year's net lottery proceeds.
Since the state created the 50 percent requirement in 2011, surplus lottery funds continue to grow. Additional surplus funds above the 50 percent requirement are held in an Unrestricted Reserve fund available for appropriation by the legislature. In 2016, the shortfall reserve held $490 million and the unrestricted reserve held $524 million. Together, lottery reserves total more than $1 billion.
Surplus Lottery Funds Total More Than Twice Legal Requirement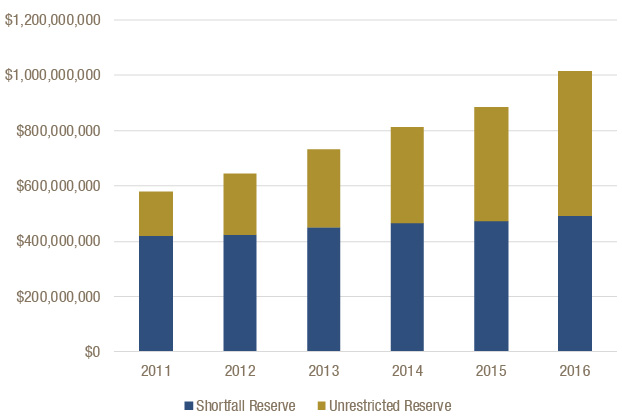 Continue Reading the 2018 Georgia Budget Primer