Human Services Budget Overview
Georgia's Department of Human Services oversees state spending to protect children and the elderly and provide non-medical assistance to people with low incomes. State funding for the agency is $642 million in 2017, less than 3 percent of state spending.
Child welfare-related services represent the largest share of the department's responsibilities, accounting for $380 million, or 59 percent, of the department's 2017 budget. These services include protecting children from abuse, abandonment and neglect, as well as safeguarding them in suitable temporary and permanent homes.
About $127 million of the Human Services budget helps low-income families gain access to Temporary Assistance for Needy Families, nutrition assistance, Medicaid and other federal services. These temporary supports help children stay healthy and help keep adults prepared for job opportunities. Other department functions protect and sustain older Georgians, enforce parents' responsibility to financially support children and help people with disabilities get jobs.
Georgia's Children Major Focus of Human Services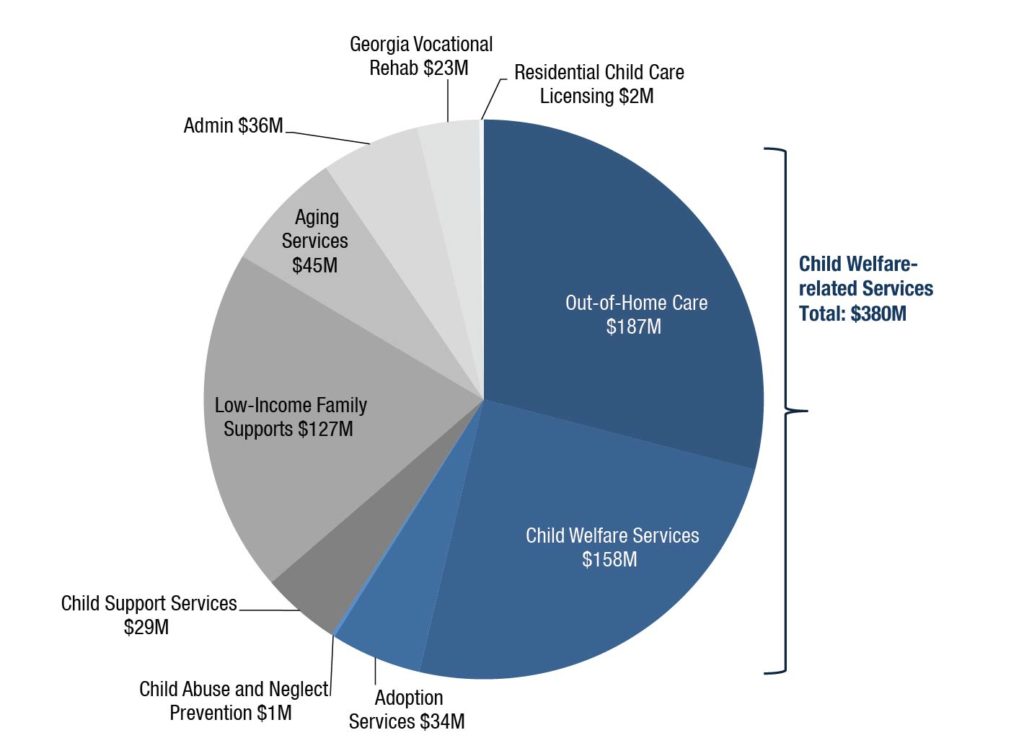 Child Welfare: More Workers to Bolster Line of Defense
The Child Welfare portion of the Human Services budget, $158 million, pays the salaries of workers who investigate allegations of child abuse, abandonment and neglect.
Lawmakers added about $7.4 million to the department's budget in 2017 to hire 175 additional Child Protective Services workers. Caseworkers are often a child's first line of defense against abuse and neglect. The money for additional caseworkers is part of Gov. Nathan Deal's plan to achieve an average caseload of 15 families per worker by the end of 2017. Such a ratio allows child welfare workers adequate time to talk with families face-to-face, assess a child's safety risk and follow up to confirm necessary services and supports are provided.
More money is likely needed in the 2018 budget to achieve the governor's objective. Each child welfare case manager now handles about 21 cases. The new case managers added through the 2017 spending plan are expected to help lower the average to about 18 cases per worker.
Child Welfare Caseworkers Stretched Thin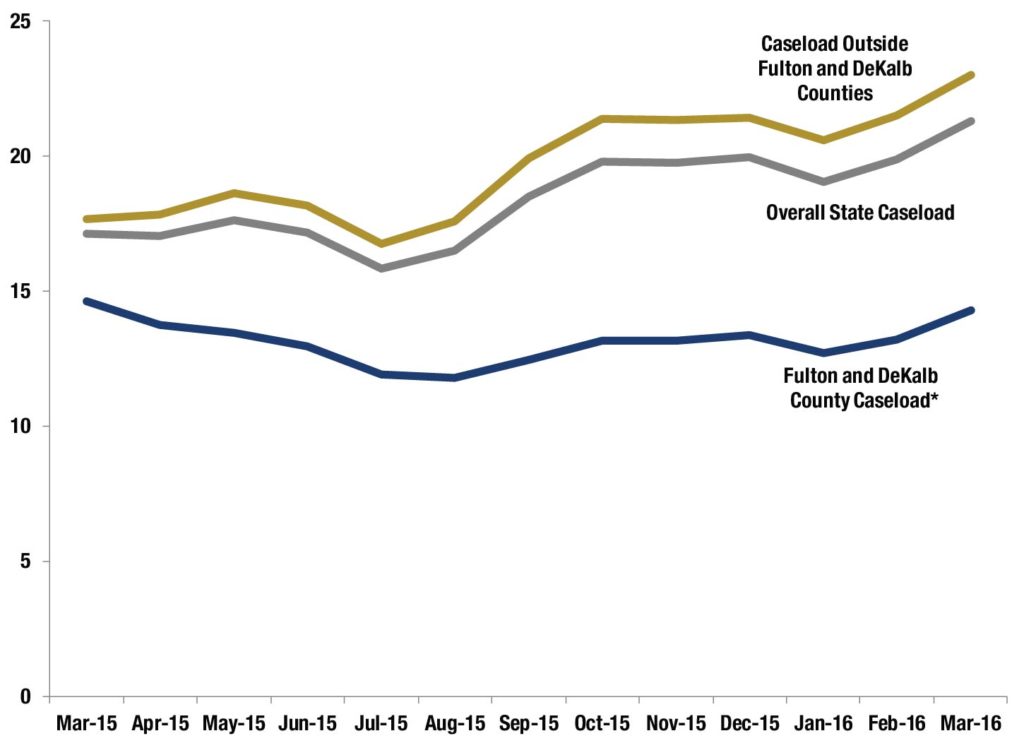 Foster Care Gets Boost as Child Abuse Reports Rise
Foster families, child placement agencies and child care institutions, or group homes, continue to cope with significant unmet needs. Georgia's 2017 budget adds $51 million to address growth in foster care. Recent child deaths and a new centralized toll-free number for suspected child abuse reports contributed to a 42 percent increase in the number of children placed in foster care since March 2014.
Georgia's 2017 budget also adds $4.3 million to increase the rates paid to foster families, child placing agencies and group homes by 1.5 percent. Rates paid to families are probably still inadequate to cover the cost of caring for children.
A family caring for a foster child younger than five is paid about $15 a day, unless the family requests more to meet a child's unique needs. This $15 must cover food, shelter, clothing, supervision and oversight. Families that earn less than $62,010 per year in southern urban areas spend an average of $24 per day to provide for a child under five, according to the U.S. Department of Agriculture. Families in rural areas that earn similar incomes spend more than $20 per day on average caring for young children.
Foster Care & Adoptive Placements Up by 42 Percent Over Two Years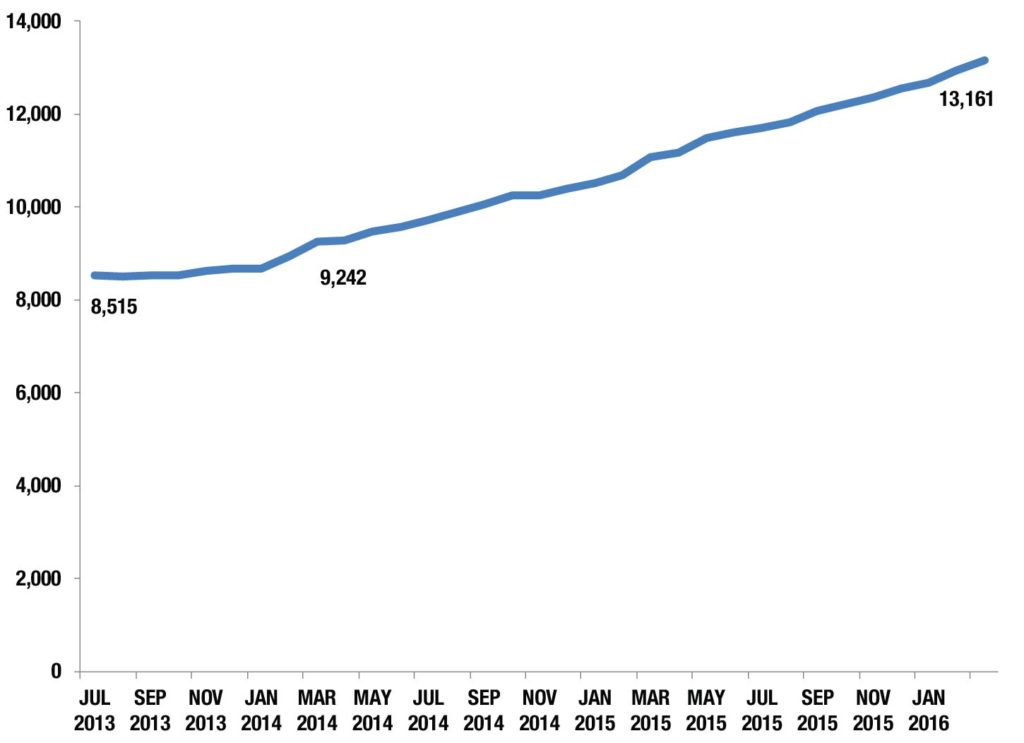 Low-Income Supports: Families Struggle in Sluggish Economy
Georgians continue to struggle with high poverty, unemployment or, in many cases, jobs offering fewer hours than they are willing to work. The state's human services workers are handling 63 percent more cases than prior to the 2007 recession. Georgia's 2017 budget adds 180 workers to help families, but this still leaves fewer workers than 2007.
These workers help families obtain Temporary Assistance for Needy Families (TANF), food assistance, Medicaid, and child care assistance. TANF is a state-federal partnership designed to help low-income families reach financial independence through job preparation, temporary cash assistance and other support. The Supplemental Nutrition Assistance Program also known as food stamps helps low-income families afford the food they need to work, attend school and otherwise contribute to their communities. Medicaid provides health insurance for some low-income Georgians, primarily children (see Health Care section, page 32).
Food assistance is the fastest growing of these low-income supports. Food assistance more than doubled in Georgia from November 2007 to March 2016. Qualifying families must have incomes near the poverty level.
Fewer Assistance Workers, Increased Poverty Since 2007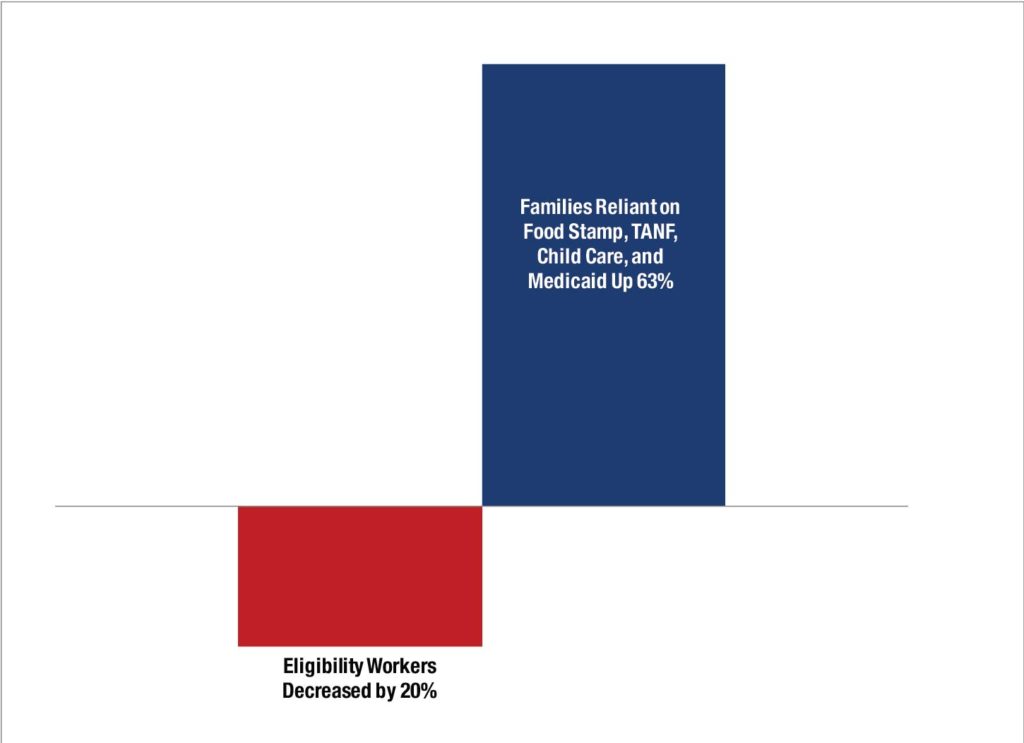 State Raises Investments to Support Older Georgians
The population of Georgians age 60 and older is projected to grow 41 percent by 2030. The aging population will need more support services. The state's 2017 budget increases investment in anticipation of this growth.
Georgia's Adult Protective Services investigates and helps prevent abuse, neglect and exploitation of Georgians 65 or older who are not in long-term care. A spike in financial crimes targeting the state's senior and disabled citizens is creating the need for more workers to protect their interests. Adult Protective Services cases increased nearly 57 percent from 2011 to 2015.
The 2017 budget plan adds $760,000 to hire 11 additional employees in the final installment of a three-year plan to phase in 33 new workers.
The budget also adds $2 million for adult community living and support services. These services allow older Georgians to live independent lives in their own communities instead of nursing homes. The new funding is expected to reduce a waiting list of more than 13,000 people seeking assistance with home-delivered meals, transportation, minor home repairs and other services.
Adult Protective Services Cases Climb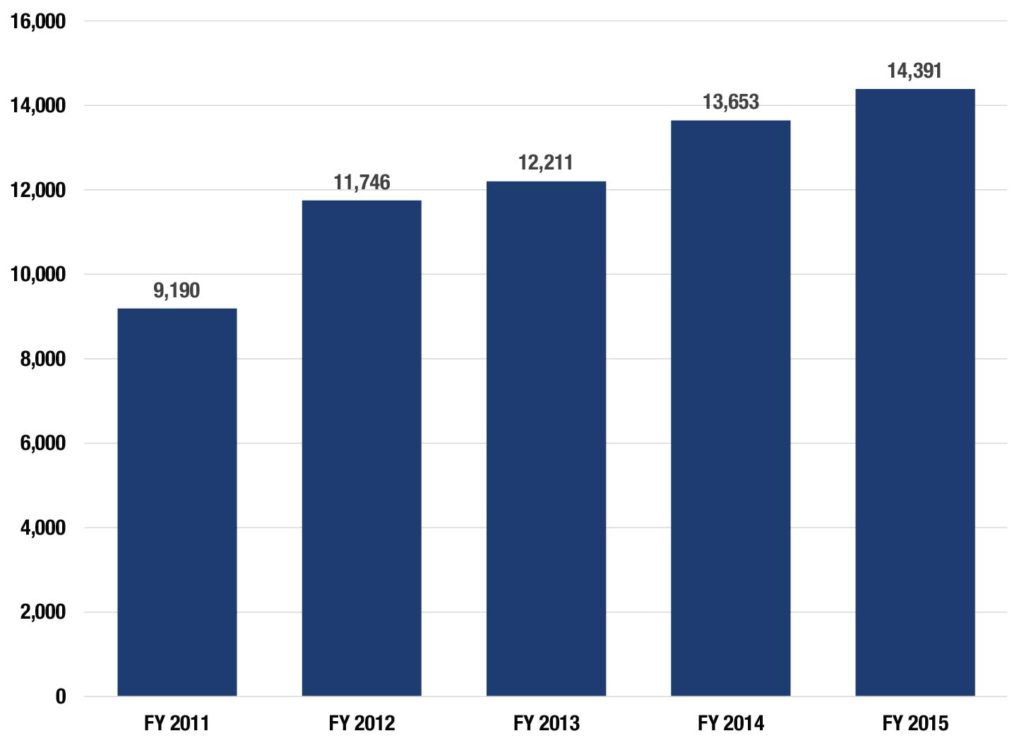 Continue Reading the 2017 Georgia Budget Primer
[button color="" size="" type="" target="" link="https://gbpi.org/2016/georgia-state-budget-overview-for-fiscal-year-2017/"]General Budget Overview[/button]
[button color="" size="" type="" target="" link="https://gbpi.org/2016/georgia-education-budget-primer-for-state-fiscal-year-2017/"]Education Budget Overview[/button]
[button color="" size="" type="" target="" link="https://gbpi.org/2016/georgia-health-budget-primer-for-state-fiscal-year-2017/"]Health Budget Overview[/button]