This section is co-authored by Director of Economic Justice Ife Finch Floyd and Senior Analyst of Worker Justice and Criminal Legal Systems Ray Khalfani.
FY 2024 Budget for Human Services
The fiscal year (FY) 2024 budget includes $985 million for the Department of Human Services (DHS). It also includes a cost-of-living adjustment (COLA) for state workers and funds to hire several hundreds of Division of Family and Children Services (DFCS) eligibility workers to support the state's Medicaid Unwinding process. This process will redetermine the eligibility of 3 million Georgians after the end of continuous health coverage, which expired in March. The FY 2024 proposal increases investment in the agency by $65 million more than the lawmakers approved last year. The budget for DHS is about $156 million more than the FY 2020 budget, which legislators passed before the start of the pandemic.
Child welfare, foster care and adoption-related services account for about 63 percent of the agency's budget. The next biggest share of spending is federal low-income assistance programs such as Medicaid, the Supplemental Nutrition Assistance Program (SNAP) and Temporary Assistance for Needy Families (TANF), accounting for 16 percent of the agency's budget. Smaller programs such as elder care services, child support services and vocational training for adults with disabilities account for the remaining funds.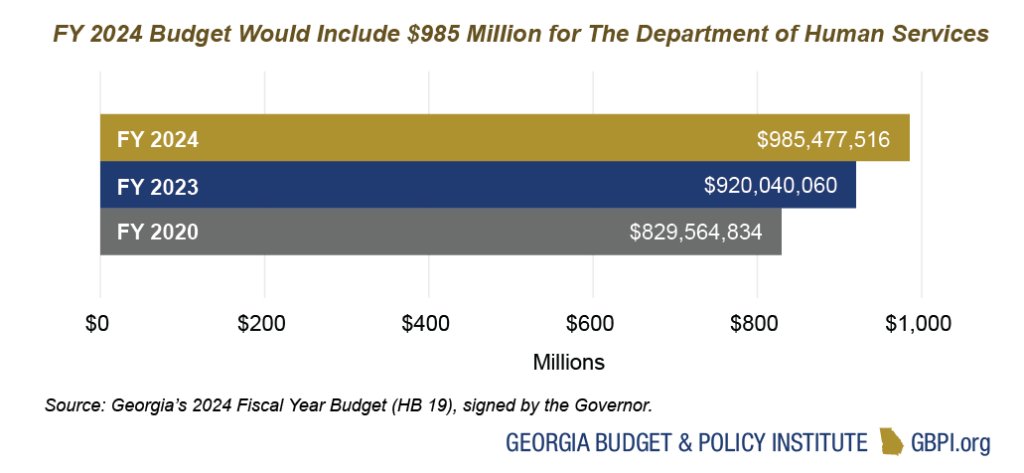 2024 Fiscal Year Highlights
DHS' budget includes $65 million in additional state funds for FY 2024 including:
$15.4 million for the $2,000 COLA increase for full-time state employees.
$11.1 million to hire 450 additional Medicaid eligibility caseworkers and 75 supervisors to support the state's Medicaid Unwinding process. The state will also use federal Medicaid funds to help cover the cost of hiring new staff.
$15.2 million to supplement state funds for loss of federal Foster Care Title IV-E funds to group homes caring for foster care children.
$5 million to provide alternative housing and services for foster care youth with complex needs. This addresses the hoteling crisis where youth with complex needs may have to spend one or multiple nights in a DFCS office or a hotel because their foster care parent or group home can no longer care for them.
The governor directed the Vocational Rehabilitation agency to disregard more than $400,000 from its budget for initiatives like the Georgia Radio Reading Service for the blind, independent living services and employment services for transplant recipients.
Major Changes to Medicaid Will Test DHS After Years-Long Disinvestment
DHS's intent to hire 450 eligibility staff and increase salaries by $2,000 are positive steps. However, these measures don't go far enough to address years of disinvestment by lawmakers in the state government's workforce, which has contributed to the current staffing crisis. In FY 2022, DHS's 30.3 percent turnover rate was higher than the state government's. In DFCS, the workforce dropped by 16 percent between FY 2017 and FY 2022. Furthermore, the number of DFCS frontline staff processing Medicaid, SNAP and TANF cases declined over the past two years. As of March 2023, the staffing level for these workers was below 1,400, its lowest point since the start of the pandemic. Many vacant positions are still unfunded and thus unable to be filled, even with stronger hiring.
DFCS will not only redetermine 3 million Medicaid cases this year but will also launch Pathways to Coverage, the governor's narrow Medicaid expansion that includes include work requirements. Because of persistent turnover, these two major initiatives impacting millions of Georgians will be implemented by mostly inexperienced staff. It will take several months for the state to hire 450 new caseworkers and fully train them to manage these enormous tasks. Yet even with training, it may be another few months to a year before new staff fully understand their role. Case managers' workloads will remain high despite automatic renewals for many clients. High workloads combined with inexperienced staff will inevitably result in mistakes. These errors could mean an unnecessary loss of coverage for potentially thousands of children or seniors. Furthermore, news reports of delayed SNAP payments, which help people afford the cost of food, signal the workforce issues impact more than just Medicaid.
These growing pains may be worthwhile if DHS builds a more competent workforce that can effectively and efficiently get Georgians the benefits and services they need to be economically secure and protected from abuse and neglect over time. However, state leaders must be willing to take actionable steps now not just to hire but to retain staff. Such measures should include professional development, benefits like paid family medical leave, competitive starting salaries and a system of merit-based raises. Next year's budget is another opportunity to consider some of these options.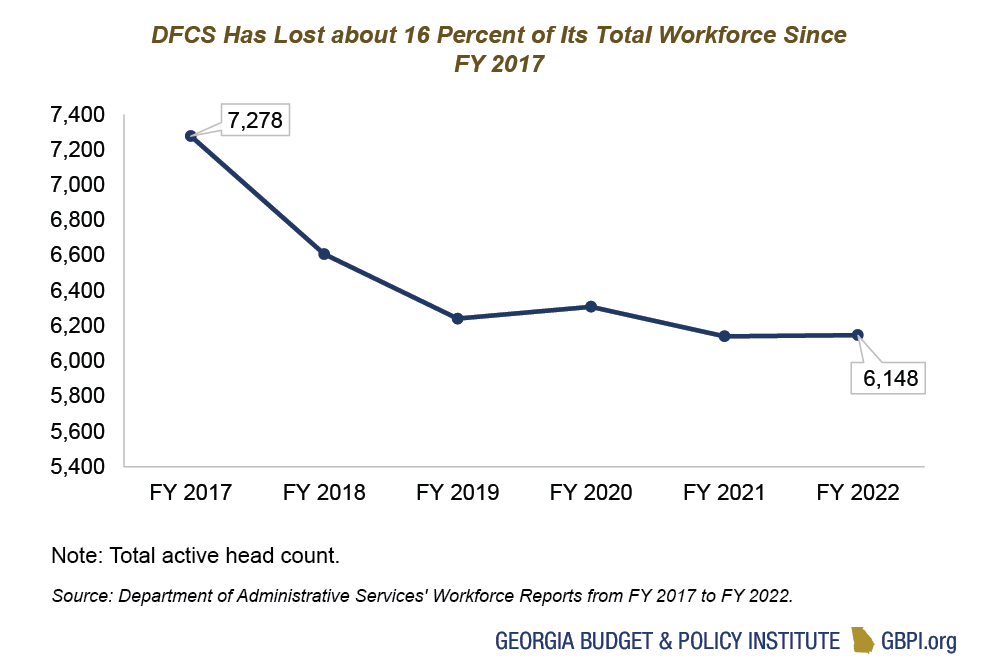 Georgia's 2023 Department of Labor Budget
The $8.1 million included in the FY 2024 budget for the Georgia Department of Labor (DOL) increases spending from FY 2023 levels by over $2 million. This increase is driven by pay raises that seek to improve staff recruitment and retention.
The bulk of FY 2024 state spending for the DOL will go to two divisions: (1) Department Administration, which provides administrative support to each program division within DOL, and (2) Unemployment Insurance (UI), which collects UI taxes from state employers and distributes unemployment benefits to eligible claimants. Each of Georgia's DOL divisions administer programs that are funded by a significant share of federal dollars, which covers 84 percent of FY 2024 DOL spending, a slight decrease from FY 2023 as federal spending remained steady compared to state spending increases.
FY 2024 may hold fiscal uncertainty for DOL, as supplemental "administrative assessment" funding from employer payroll taxes expired under previous legislation and won't resume through newly passed legislation for several months. Since 2016, administrative assessment funding has provided DOL with an average of $21 million per year, which is typically three to four times the amount lawmakers appropriate to DOL annually through general funds. With the possibility of another recession looming, DOL does not hold the claims technology infrastructure nor adequate UI Trust reserves to process and pay out significant UI claims should Georgia's labor market significantly weaken.
Unemployment Disparities Within Georgia's Current Labor Market Could Translate to Even Steeper Inequities in a Future Recession
A gradual economic slowdown has started, despite a labor market that remains broadly strong and has seen jobs return and surpass pre-pandemic levels in every major industry except its public sector. Several factors demonstrate that Georgia's longstanding workforce disparities across race and ethnicity could worsen under a continued slowdown: disparate unemployment shifts among Black and white workers; net rises in underemployment among Black workers and Latina women from 2019 to 2022; and increases in overrepresentation of Black workers on UI rolls not seen since 2021.