Education Funding in Georgia: Financial Challenges for Schools Remain
Georgia is spending nearly $12.3 billion on education in the 2018 fiscal year, or about 51.7 percent of the state's budget. The Department of Early Care and Learning receives $61.5 million and $9.4 billion goes to the Department of Education. The Legislature is directing $2.3 billion to the university system and $361 million to the technical college system. About $114 million of the state's General Fund is allotted to the Georgia Student Finance Commission for scholarship, loan and grant programs, including the state's dual-enrollment program, Move On When Ready. In addition, the Legislature appropriated $1.1 billion in lottery funds for education: $364 million for Pre-Kindergarten and $766 million for the HOPE financial aid programs.
The 2018 budget represents an increase of $714 million for education from the General Fund and $57 million in lottery funds. These increases continue the modest but steady gains seen after the deep cuts made during the recession.
School districts across Georgia continue to face financial challenges particularly to meet the needs of low-income students. State funding for public schools is close to the level set by the state funding formula, but the formula is an outdated benchmark. Designed 32 years ago, it does not align with the much higher student academic goals now in place, nor does it reflect students' growing needs. More than 60 percent of students in Georgia's public schools are low-income. Most require extra support to meet academic goals, but the state is not investing resources to supply them. Georgia ranks 38th in spending per student and invests $1,965 less per student than the national average.
Tuition pressure on Georgia's college students remains high. Over the last 10 years, the cost burden in the university system shifted from the state to students and from appropriations to tuition and fees. Tuition and fee revenue used to be relatively small compared to appropriations, but this year these two revenue sources are projected to contribute similar amounts to the university system. Although total university system revenue growth has tracked closely with inflation, tuition and fees are rising at a faster pace as universities rely more heavily on this funding source.
Progress Stalls on Reversing K-12 Funding Cuts
The 2018 budget holds a mixed bag for K-12 schools. The General Assembly added $160 million to raise teacher salaries, the first increase since 2009, but it also halted progress in reversing its cuts to the state's formula for funding public schools. Schools are short $166.7 million in 2018 according to this 32-year-old benchmark. This brings the cumulative cut to more than $9.2 billion since 2003. That shortfall, combined with rising costs, makes it hard for districts to bring class sizes back down, invest in reform strategies and provide low-income and other at-risk students with the extra support they often need to reach the academic goals the state sets.
Austerity Cuts Persist: 16 Years of Underfunding Public Schools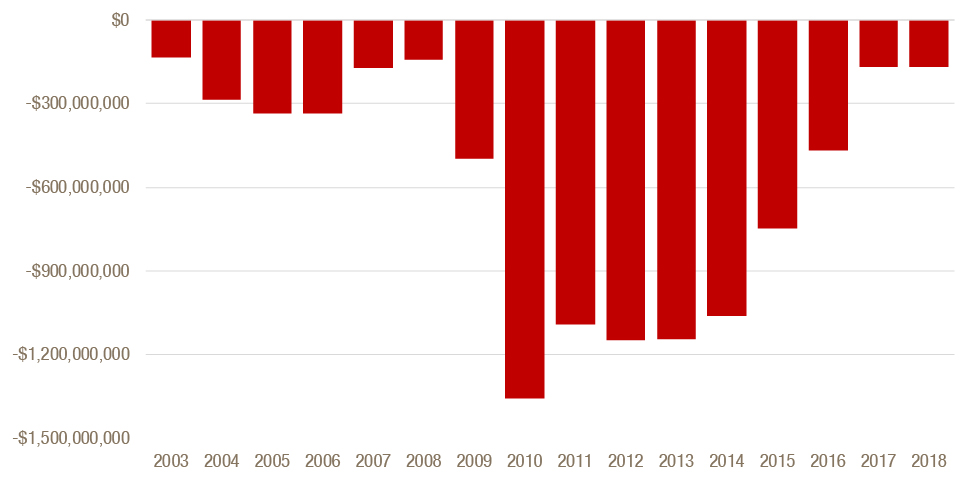 Cost Shifting Undermines Restored Funding
From 2015 to 2017, the General Assembly reversed much of the austerity cuts it imposed on school districts. Cost shifting by the Legislature diminishes the impact of the restored funds, however. In 2012 the Legislature eliminated funding for health insurance for districts' non-teaching staff, a cost the state and districts shared for many years. The monthly amount districts pay to the State Health Benefit Plan for health insurance for each of these workers soared from $296 in 2012 to $945 in 2018. In total, districts are spending $430 million more annually on this expense.
Districts are also spending more on student transportation, a service mandated by the state. State transportation funding per full-time equivalent student shrank from about $112 to $75 between 2000 and 2018. Districts cover a growing portion of transportation costs with local money, leaving them with less to spend in the classroom on student learning.
Shrinking State Funds for Student Transportation*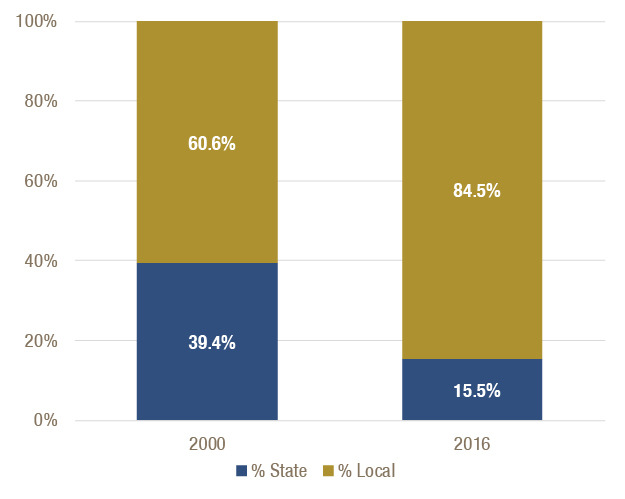 Pre-Kindergarten: Quality & Access Concerns Continue
Funding for the Pre-Kindergarten program gets a bump in the 2018 fiscal year, but per-student funding is about 11 percent below the 2009 inflation-adjusted level. The General Assembly added funds in 2017 to give a much-needed boost to Pre-K teachers' salaries and reduce turnover. Critical needs remain, though.
The current class ratio of one teacher to 22 students is above the quality standard of one-to-20 set by the National Institute for Early Education Research. Some communities also have Pre-K waitlists because they do not have enough high-quality providers. One reason is the low amount the state offers to cover start-up costs for new Pre-K classrooms. A 2015 commission convened by Gov. Nathan Deal to examine early childhood and other education programs recommended increasing funding for Pre-K to lower class sizes and raise start-up costs to $12,000 from $8,000. The Legislature has not acted on these recommendations.
Per Student Pre-K Funding Lags Pre-Recession Levels


(Adjusted for inflation)