Education Funding in Georgia: Financial Challenges for Schools Remain
Lawmakers reached a critical benchmark with the 2019 budget: For the first time since 2002, they sent school districts the full amount of money calculated by the state's formula for funding public schools. This marks important progress in supplying schools the resources necessary to meet students' needs, but the funding formula is still outdated. Now 33 years old, it should be replaced with a new formula that aligns with the needs and goals of students today. School districts' budgets also remain strained because legislators shifted costly health insurance and transportation responsibilities onto them in recent years.
The General Assembly also passed legislation this year to create the state's first broad need-based financial aid program to help more students from low-income families access college. It is not funded in the 2019 budget, but future lawmakers will have the opportunity to fund the program and help more Georgians attend college and complete their degrees.
The Department of Early Care and Learning receives $61.5 million in state general funds, and the Department of Education gets $9.9 billion. The higher education budget in Georgia is $2.4 billion for the university system and $369 million for technical colleges.
About $142 million of state general funds are allotted for scholarship, loan and grant programs, including dual enrollment. The legislature also appropriated $1.2 billion in lottery funds for education, including $367 million for Pre-Kindergarten and $834 million for higher education programs, including HOPE scholarships and grants.
The 2019 budget represents a $624 million increase for education from the General Fund. More than half of the funding growth in education shores up retirement benefits. Lottery funds increased by $68 million. Lottery reserve funds total more than $1 billion.
Budget Funds K-12 Formula for First Time in 16 Years
Georgia's spending plan for the 2019 budget year fully funds the state's Quality Basic Education formula for the first time since 2002, putting a stop to funding cuts that soared to $1 billion each year from 2010 to 2014. Totaling more than $9 billion over 16 years, Georgia's education austerity cuts caused larger class sizes, teacher furloughs and fewer enrichment activities such as art and music. The scope of the annual cut gradually shrank in recent years, falling to $167 million in last year's budget.
Closing that gap is a positive step forward, but local districts are still strained by factors such as rising costs and additional funding responsibilities for transportation and health care. These deficiencies are tied to a larger problem: Georgia's 33-year-old funding formula no longer reflects students' needs or the ambitious learning goals the state sets for them. To build on this year's progress, lawmakers can modernize Georgia's antiquated funding formula so it reflects the true costs of educating every child to today's rigorous standards.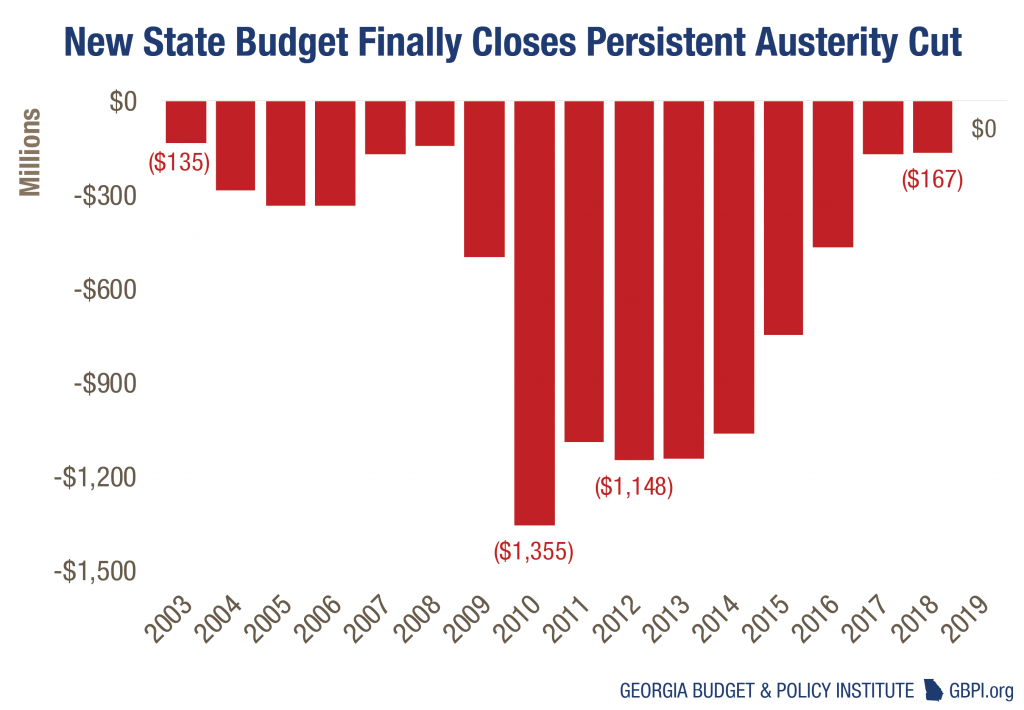 K-12 Funding Increase Restores Deep Cuts and Covers Enrollment Growth
Lawmakers added a total of $2.5 billion to the K-12 budget from the 2014 to 2019 budget years, a sizable new investment in public education at first glance. But most of the additional funds simply restore prior cuts or cover routine increases such as growing enrollment and pension obligations, rather than going to new classroom programs.
The largest portion of added funds during this span – $1 billion – restores prior cuts in school district budgets caused by the underfunding of Georgia's Quality Basic Education formula. Student enrollment growth and routine salary adjustments for teachers received $622 million, the second largest chunk over this span. These funds allow districts to cover the rising number of students in their classrooms and attract and retain high-quality educators. The Teacher Retirement System received $608 million since 2014 to cover the state's commitment to its public school teachers, including $362 million in the 2019 budget. Combined, these three items account for 91 percent of the additional $2.5 billion in K-12 money since 2014.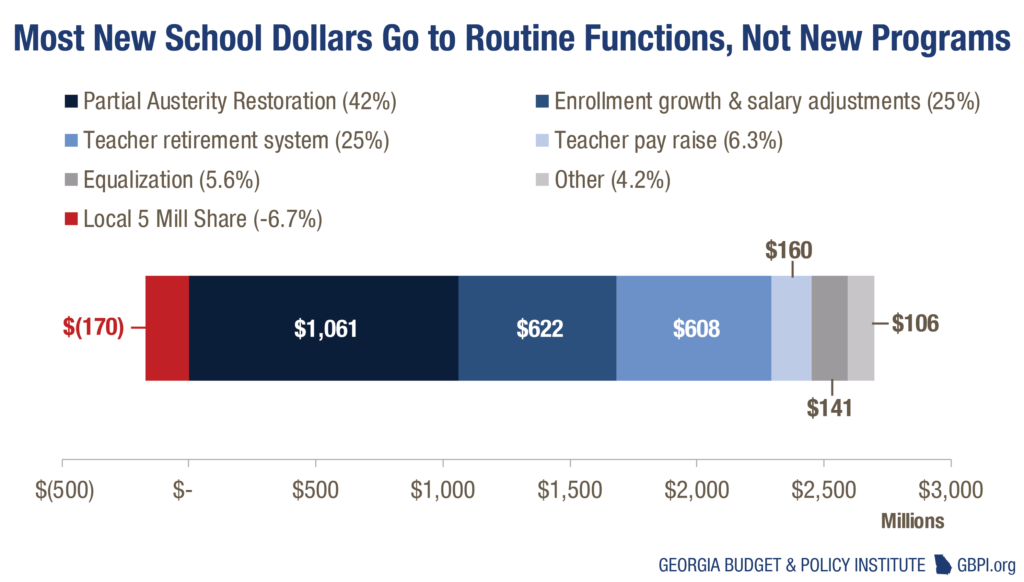 Elementary and Secondary Education: State Cost Shift Limits Impact of Restored Funding
The money added back to the K-12 formula this legislative session does not stretch as far as it could because the state pushed hefty expenses onto districts over the past few years. In 2012, Georgia lawmakers ended their contribution to the cost of health insurance for non-teaching staff, including bus drivers and custodians, leaving districts to pick up the full tab. The monthly amount districts pay to the State Health Benefit Plan for health insurance for each of these workers soared from $296 in 2012 to $945 in 2018. Districts now spend $430 million more each year to cover this cost.
Local governments are also carrying most of the cost of getting students to and from school safely every day. This was once an expense shared equally by the state and districts, but now the state covers only about 15 percent of districts' rapidly escalating transportation costs. Lawmakers took a step in the right direction during the 2018 legislative session by adding $930,000 to the transportation formula and $15 million in bonds for bus replacement. But school districts are still left to cover the gap. There are more than 3,600 school buses 15 years or older on the roads every day in communities across the state, raising worrisome safety concerns.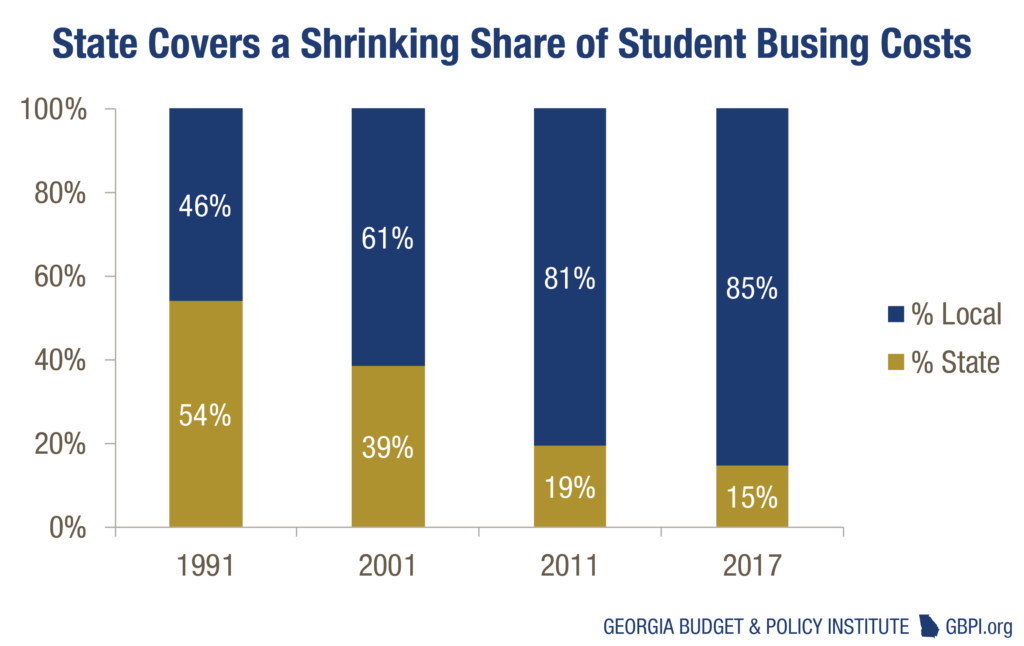 Pre-Kindergarten Funding Continues to Lag
Funding for the Pre-Kindergarten program inches up by less than 1 percent in fiscal year 2019 to cover the rising costs of teacher retirement benefits. But per student funding is down $515 from 2009 when adjusted for inflation, a decline of nearly 11 percent.
Weakened state support threatens the program's ability to provide quality early education to Georgia's children. The quality standard for teacher-to-student ratio is 1-to-10 and a maximum class size of 20, according to the National Institute for Early Education Research. Georgia falls short of this benchmark. Its teacher-to-student ratio is 1-to-11 and maximum class size is 22. A 2015 commission convened by Gov. Nathan Deal to examine early childhood and other education programs recommended increasing funds for Pre-K to lower class sizes, but the Legislature has not acted on these recommendations.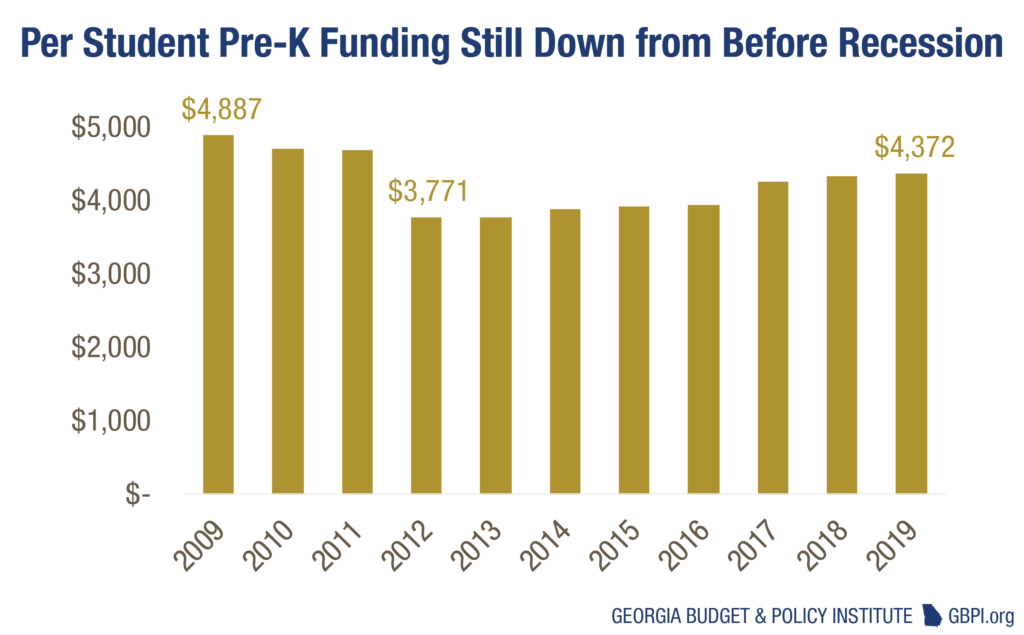 Continue Reading the 2019 Georgia Budget Primer