The Georgia Lottery is intended to support a more educated Georgia where everyone gets a good early start to their education and an affordable path to a college degree. Too many lottery dollars sit idle. The state averages more than $53 million in lottery surplus every year which builds up the reserves instead of supporting Pre-K and HOPE.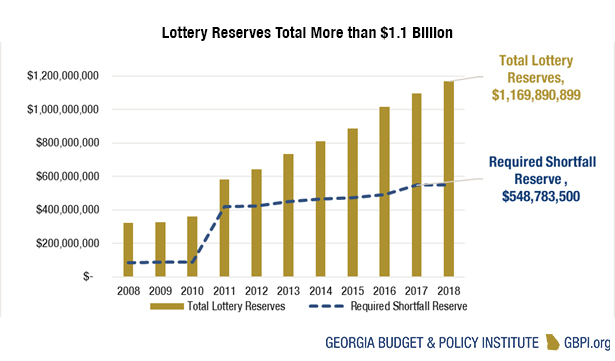 Georgia's Required Shortfall Reserve is Adequate

After 2011, the legislature increased the shortfall reserve requirement from 10 to 50 percent of previous year's net proceeds. This money is available to keep promises to students during an economic downturn. Even with the larger requirement, total lottery reserves now exceed the benchmark by more than $600 million.
Too Many Lottery Dollars Go Unused

Governor Kemp's budget uses more lottery dollars for Pre-K teacher raises. We could also use more lottery dollars to strengthen Georgia's HOPE programs.
Plan to spend excess reserves for education, or
Dedicate interest income to education instead of putting back into reserves.
Want to know more? Read the full policy report here.