Key Takeaways:
Years of disinvestment, poor public health infrastructure and systemic barriers have exposed Georgians' vulnerability—particularly for those with low incomes and for communities of color—to this health and economic crisis.
State, local and federal governments have enacted solutions to help mitigate these effects, but these changes may not be enough to truly support the health and economic wellbeing of all Georgians and stabilize our state's revenues.
To give Georgians the support they need right now and mitigate the effects of future crises, our state must enact people-first policies to help Georgians access health care, support and expand key safety net programs like Unemployment Insurance and SNAP and protect our revenues to support the needs of our growing population.
---
In the weeks since the novel coronavirus made landfall in the United States, federal, state and local leaders, counseled by public health experts, have responded with a host of executive and legislative policies and guidance, some coordinated, to mitigate the negative effects of COVID-19, which has led to thousands of deaths across the globe.
As of Monday, March 30, the United States has reported 140,904 active cases and 2,405 deaths according to the Center for Disease Control. Georgia ranks among the top states for infections with 3,032 cases and 102 deaths, with a death rate of 3.36 percent—No. 6 in the nation according to analysis of data from New York Times. Georgia is facing significant challenges in protecting people's livelihood based on a set of compounding factors. We are the No. 8 most populous state in the nation, but we are stifled by a weak, under-resourced public health infrastructure; a near-anemic safety net and an economy where 40-45 percent of workers are in low-wage industries that do not provide adequate economic security or health care according to analysis of data from Brookings Institution. Moreover, as a right-to-work state, our non-existent worker protections make low-wage workers more vulnerable to corporate abuses and exploitation—like forced unpaid leave—amid a pandemic. Lastly, due to the host of health and economic disparities experienced by Georgians of color and communities of color, they are likely to bear the brunt of this current pandemic without targeted intervention.
Furthermore, our state revenues will likely suffer as a pandemic-induced recession calls for social distancing that has caused businesses to close, sending thousands in Georgia to the unemployment lines. More than half of our state budget (51 percent) depends on income taxes to carry out the state's business. With the projected decline in income and increased costs to manage the COVID-19 crisis in the short term, Georgia will likely face a budget shortfall before June 30, when our current fiscal year ends. Georgia's Revenue Shortfall Reserve, or Rainy Day fund, stands at $2.7 billion and will likely be a resource for the state. The CARES Act, signed by President Trump on Friday, sends $150 billion federal dollars to state, local and tribal governments, and Georgia will be able to use about $3.5 billion of those relief funds to aid at this time according to analysis from the Center on Budget and Policy Priorities. Projections for a slow economic recovery also indicate lawmakers, upon their return to legislative session, will have some tough decisions to make to finalize the state budget for fiscal year 2021 that begins on July 1.
Years of low-level investment in core government services like public health, health care and emergency management have exposed how vulnerable our state is to natural disasters or global pandemics, like that of COVID-19. Because of these systemic challenges, it will make the effects of the coronavirus in Georgia even more devastating. Many will suffer if Georgia doesn't respond aggressively and with zealous intention to mitigate the damaging health outcomes and economic fallout for all Georgians, especially Georgians of color, rural residents and other vulnerable communities like immigrants and seniors.
To overcome this moment sufficiently, Georgia must prioritize people-first policy solutions that will bolster public health to save lives, mitigate the economic harm for many Georgians who struggle to make ends meet and use the resources and revenues wisely to shore up government services and the economy in the short and long term. Georgia leaders must act zealously to save lives, protect pocketbooks and spend wisely and responsively. It has been disheartening to hear various leaders prioritize saving the economy over saving people's lives. What they fail to realize is that our economy's number one asset is the people. It does not have to be a zero-sum game where we must make a choice between businesses and people—particularly when the consequences are so dire. If we have learned anything through this crisis so far it is that there are people who put their lives on the line EVERY SINGLE DAY for us to enjoy basic goods: hospital workers, restaurant staff, grocery story workers, shelf stockers, cashiers, delivery drivers and janitors and custodial workers. We take their roles for granted every day, and in response we must thank them for their service and keep them, and others like them, in mind as we navigate the road ahead. Our economy will not thrive if people do not survive this new, compounding crisis.
State Must Overcome Everyday Challenges Faced by Many Georgians
Truth be told, before the novel coronavirus became a global pandemic, wreaking havoc on every health, economic and political system across the planet, many Georgians were enduring poverty, income inequality, limited economic mobility and systemic barriers erected from a long history of racism and discrimination. These themes were consistently heard across all the communities the Georgia Budget and Policy Institute staff visited over the last few years.
Whether we heard from workers and students in Savannah, Albany and Macon, immigrant communities in Gwinnett County or community leaders in Rome/Floyd County and Athens, we heard the same thing—far too many Georgians bemoaned low wages, lack of health care access, limited mental health services and the unavailability of affordable housing and child care. All the necessities that one family needs to ensure their economic security were not easily attainable.
I can't forget what I heard from community members in both Albany and Rome in Floyd County during those listening sessions—areas that are experiencing significant crises related to COVID-19.
While many Albanians spoke of the good quality of life they enjoyed in South Georgia and were optimistic about the opportunities available to invest in their community, others expressed frustration over public safety, lack of quality jobs, housing instability, racial tensions and access to health care. "To access care, you have to drive to the next county. You may be in the van for eight hours from medical facility to home," one member of the community shared.
Georgia has seen seven rural hospitals close since 2010, and the limited health care facilities, equipment and staffing in the Albany area has exacerbated the region's inability to adequately handle the spread of the coronavirus. The region is woefully under-resourced. Albany is currently the fourth most infected area behind Wuhan China, Italy, and New York City according to the New York Times. The state must prioritize areas like this in its response.
In our listening sessions, the need for increased and improved health care access has proven especially evident now in Albany where specialists are "few and far" between and regular treatments could take a day of travel there and back. Even in Rome—a place considered a medical hub—there are gaps, especially when it comes to treating low-income Georgians, those with chronic conditions and communities of color. Mental health access proved challenging across the board, with many believing that the lack of adequate care only perpetuated other problems.
These stories ring out to me now in the face of this pandemic, and we must not overlook the additional toll on mental health as these families brave the health challenges and exposures along with more economic hardship.
We cannot forget the people.
These communities have been under-resourced for a long time and Georgia leaders must work expeditiously to move resources of all kinds—human, financial and physical—to these areas to help save lives.
Other Compounding Factors that Put Georgians at Risk

Georgia has the third highest uninsured rate in the nation, making more than 500,000 Georgians particularly at risk of not getting needed medical treatment.
3.6 million Georgians live below 200 percent of the federal poverty level, making $24,000 a year or less (Census)
46 percent of Georgians do not have three months of savings
47 percent of workers across Georgia are considered Low-Wage workers (Brookings Institution data)
Median family income for low-wage workers is $35,814 (Census)
Among the weakest UI benefit programs in the nation, prior to public health emergency
Temporary Assistance for Needy Families (TANF) program has very few on its rolls
More than 62 percent of students in K-12 public schools are eligible for free or reduced-price lunch
Ranked No. 47 nationally for public health policy
Ranked No. 47 in revenues per capita
Ranked No. 50 in state spending growth since the Great Recession
Georgia Response Must Include Bold, Decisive Action
Recent federal government legislation will provide some relief to states like Georgia that lack the revenues and capacity to manage this crisis alone. However, it may not be enough. Georgia leaders will have to employ the best policy solutions and investments to help Georgians weather this crisis. And each day brings a new set of challenges.
Save Lives
We must bolster public health to prevent as many deaths as possible and stop the spread that has already crippled our health care infrastructure. The Families First Coronavirus Response Act (FFCRA) provided federal guidance to waive cost-sharing for COVID-19 testing among other things to alleviate the costs on Georgia families. Federal funds through the CARES Act will also provide support for hospitals and state and local governments to get needed equipment to fight the virus.
With emergency powers, Gov. Brian Kemp must continue to work with agency leaders to save as many lives as possible and offer hospitals and other health care providers resources to flatten the curve. There are a host of actions the governor can implement through health care waivers and other policy changes to help fight COVID-19. The state recently applied for an 1135 waiver that would give them more flexibility in administering their state health plan.
With hospitals across the state nearing capacity and without quick infusion of new equipment, the public must continue sheltering in place as much as possible to support health care providers. Without a state-level decisive mandate in this regard, local government leaders have taken responsibility to call for stay-at-home directives to help flatten the curve and potential spread.
Many have called upon the governor to expand Medicaid eligibility at this time while he has the powers to suspend laws and execute new guidance and policies. This would be the most cost-effective and aggressive action to expand coverage and draw down more federal dollars to support efforts to save lives in the short term.
Protect Pocketbooks
The state and the US Department of Agriculture (USDA) have already taken decisive action to help more Georgians manage through the economic fallout and reduce inequities faced by communities of color in our state. Waiving work requirements for SNAP beneficiaries and increasing the monthly allowance during this crisis is a critical income support for families to ensure they can keep food on their table.
Also, we were pleased to see Georgia's notoriously inadequate Unemployment Insurance program extend benefits last week from 14 to 26 weeks. That will certainly help unemployment filers be able to sustain themselves longer. The CARES Act also expands eligibility for more workers and incentivizes states to improve their programs. We offered additional recommendations to bolster the UI program to respond to the COVID-19 crisis.
Unfortunately, we are not out of the woods as economic forecasts project job losses in the nation to hit 20 million people by the end of the July according to projections from the Economic Policy Institute). If those projections hold, Georgia is likely to see more than 608,000 jobs lost (15.5 percent) by July, which has implications for our state revenues and budget. These losses will likely disproportionately affect Black and Latinx Georgians, who are more likely to work in jobs affected by the current economic uncertainty and less likely to receive unemployment benefits than their white counterparts.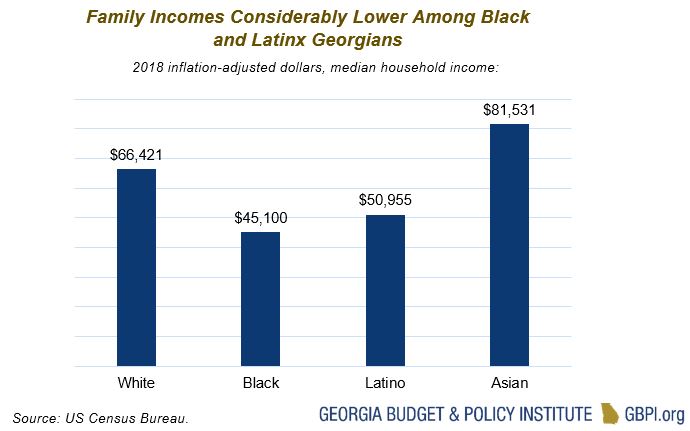 Spend Revenues Wisely, Responsively
It cannot be understated how critical every dollar is to our state coffers at a time like this. Before this pandemic hit with full force, our General Assembly and governor enacted an amended budget that included deep cuts to services and programs because we were behind on meeting our revenue projects eight months into the fiscal year. Recent tax changes and the effects of Hurricane Michael precipitated that decline in our revenue base, and the current pandemic has come at a time when we need strong revenue growth to finish out the year. With a budget shortfall looming, Georgia leaders will have to invest critical dollars to fight the COVID-19 crisis and finish the year perhaps with some belt-tightening measures in other areas to balance the budget. State leaders await the latest revenue numbers and will determine the best course of action. With the federal resources coming from a few components of the FFCRA and the CARES Act, Georgia will have to apply those funds in the best way to finish up the fiscal year, while projecting wisely our FY 2021 budget that begins on July 1.
Before they suspended the legislative session, the state House passed a flat tax proposal that would further erode our tax base by nearly $400 million annually. We believed that flat tax proposal was wrong then, and it is certainly wrong now. Georgia cannot afford to cut taxes, period—let alone during a fiscal shortfall. We must do our best to protect the revenues we have and grow them in a responsible way in the future.
Georgia has boasted for years about being a low-tax state. A low-tax state also means a low-investment state. And if there's anything this COVID-19 crisis has exposed is a low-investment state begets poor public health infrastructure, high levels of uninsured, poor residents and growing low-wage labor force that is susceptible to economic headwinds and natural disasters. While we may not be able to control global pandemics, or natural disasters like Hurricane Michael, we can prioritize people, implementing people-first policies that protect the health and well-being of our residents, expanding economic opportunity and security in Georgians wallets, and strengthening our state's ability to invest in our infrastructure with a strong, sustainable, fair revenue base.
That is how we will ensure Georgia's economy can thrive. Georgia is stronger when every resident can receive the care they need and weather the economic storms when they come. And they will come. Let's defeat COVID-19 and then make sure we're ready for the next one.
---
GBPI will be publishing a series of analyses to help Georgians understand what opportunities we have leveraging federal funds and policies, and ways to improve state level policies to help save lives, protect pocketbooks and true-up Georgia's coffers.