Lizzie Mathias balances a full-time course load at Middle Georgia State University's campus in Macon, works about 40 miles from there in Cochran. And she is interning at a domestic violence shelter in her hometown of Dublin, about an hour's drive from the college. She's served in the Middle Georgia Student Government Association every year, and now serves as its president.
She also helps care for her mom, who copes with chronic health problems, and brings in most of her family's income. "Rent and power are all on me," she said.
Despite her dizzying schedule, Mathias expects to graduate in May and plans to pursue a career in child protection. But her junior year, she almost lost it all.
Mathias's GPA dropped just below the 3.0 needed to keep her HOPE scholarship, which paid a majority of her tuition. The average annual tuition and fees at Middle Georgia are about $3,890. She hustled to apply for multiple small scholarships to fill the gap. She also took out more student loans, which now total about $22,000.
Her family's income qualified her for the need-based federal Pell Grant, but she had no other state financial aid to turn to. Georgia does not offer aid that considers a family's financial need. Though HOPE is the largest merit-based state aid program in the country, Georgia is one of only two states that lack broad need-based financial aid. Nationwide, need-based aid makes up 46 percent of all aid to undergraduates.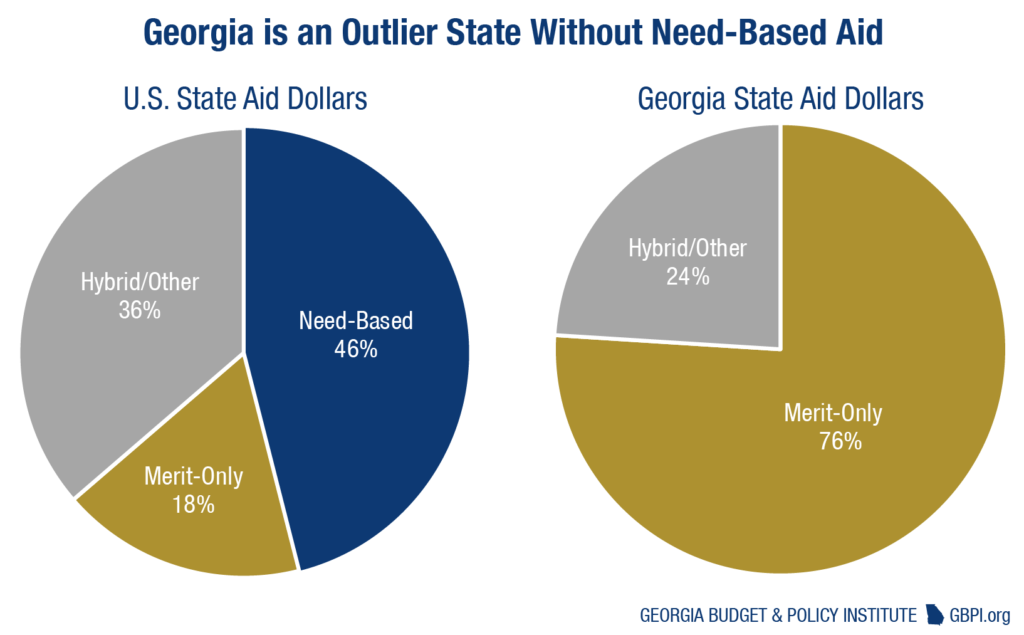 Nearly 112,000 students deal with unmet financial need, according to the University System of Georgia. Family median income for students who apply for financial aid in the university system is about $40,000. Students who take on debt borrow an average of $7,800 in loans per year.
Georgia's main strategy for the past 25 years to support college access and affordability is to offer HOPE scholarships and grants. HOPE helped a generation of Georgians pay for college. But using HOPE alone as a strategy leaves gaps for many students.
What is Need-based Aid?
Need-based aid factors in a family's ability to pay to determine eligibility. This could mean eligibility is based on a maximum family income, expected family contribution calculated through formulas based on income, assets and family size, or the difference between the expected contribution and cost of attendance
Though need-based aid weights a family's ability to pay as the initial eligibility criteria, most aid requires meeting academic benchmarks to remain eligible. These so-called Satisfactory Academic Progress requirements often include hitting GPA and credit accumulation targets to show progress toward a degree.
Need-based aid supports college enrollment, student persistence and degree completion. In Florida, a need-based grant increased the probability of a student earning a bachelor's degree within six years by 4.6 percentage points, an increase of 22 percent.
How much would need-based aid cost?
Need-based aid costs vary based on whether aid is available to full- or part-time students, how award amounts are decided, the length of the award and academic requirements to get or keep the award. Nationwide, states award an average of $597 in need-based aid per enrolled student. If Georgia committed the national average per-student amount in need-based grants, the cost is $211 million. This is less than the amount of 2016 HOPE scholarships awarded to students attending the University of Georgia and Georgia State.
Georgia is home to many hardworking students like Mathias. They start life in a financial hole, even as they invest their time, money and future earnings in their education. They grit their teeth and take out loans but many drop out when they can't make the payments.
Despite the financial challenges, Mathias expects to graduate soon and pursue a career of nonprofit and social work. A state need-based aid program could have helped her launch that career without so much debt. While it's too late for her, Mathias says the potential of need-based aid can be "life-changing for students across the state."
More details on college affordability for Georgians: Strengthen Georgia's Workforce by Making College Affordable for All