Medicaid provides nearly 2 million Georgians with vital health services, 92 percent of whom are children, elderly or disabled. It covers 1.3 million Georgia children and 500,000 Georgia seniors and Georgians who live with disabilities. The program pays for more than half of all births in Georgia and is the primary payer for three-quarters of all nursing home care. About 94 cents of every Medicaid dollar spent provides critical health services rather than administrative costs, a more efficient rate than most private insurers. And Medicaid funds are a critical lifeline for rural hospitals and community health services statewide. Our new printable handout provides these details and other core facts that show why the Medicaid program is a good deal for Georgia.
Affordable Care Act repeal proposals in the U.S. Congress so far include significant cuts to the Medicaid program through capped spending. The new administration's first attempt at repeal, the American Health Care Act, stalled in late March. Still, Congress can soon reintroduce similar plans to gut Medicaid benefits. Georgia stands to lose $4 billion in federal Medicaid dollars over ten years under a capped Medicaid structure. This funding loss threatens to squeeze the state budget for years to come and restrict health care access for children, seniors and people with disabilities in Georgia.
It is important to know the facts about how effective and wide reaching the Medicaid program is across Georgia to understand how painful shrinking it might be. Medicaid pays to treat some of the most vulnerable people in the state. About two-thirds of Georgia Medicaid enrollees are children from low-income families. Nearly half of the children in Georgia are covered by Medicaid and PeachCare. PeachCare supplements the Medicaid program to cover more children with family incomes slightly above Medicaid eligibility. The uninsured rate for Georgia children is much lower than for Georgia adults because of the coverage provided through Medicaid and PeachCare.
Uninsured Rate in Georgia by Age Group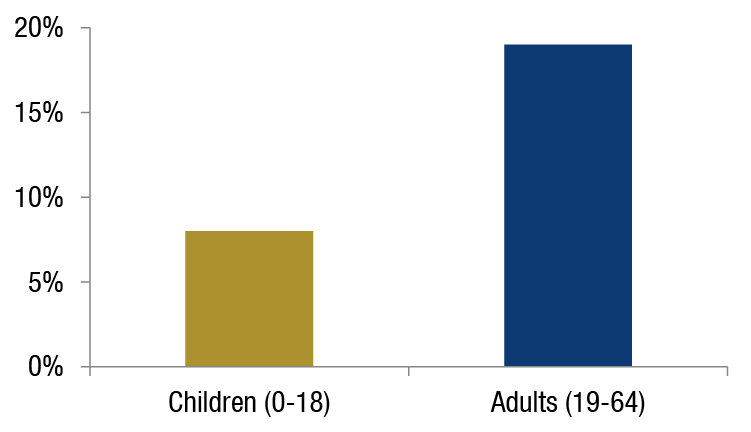 Seniors and people with disabilities represent about one-quarter of Georgia Medicaid enrollees. Low-income seniors who qualify for both Medicare and Medicaid can get help paying for prescription drugs, long-term care, and other necessary services they would otherwise not be able to afford. People with physical, intellectual and developmental disabilities receive critical support such as medical equipment and home health services.
Bulk of Medicaid Spending is for Seniors and People with Disabilities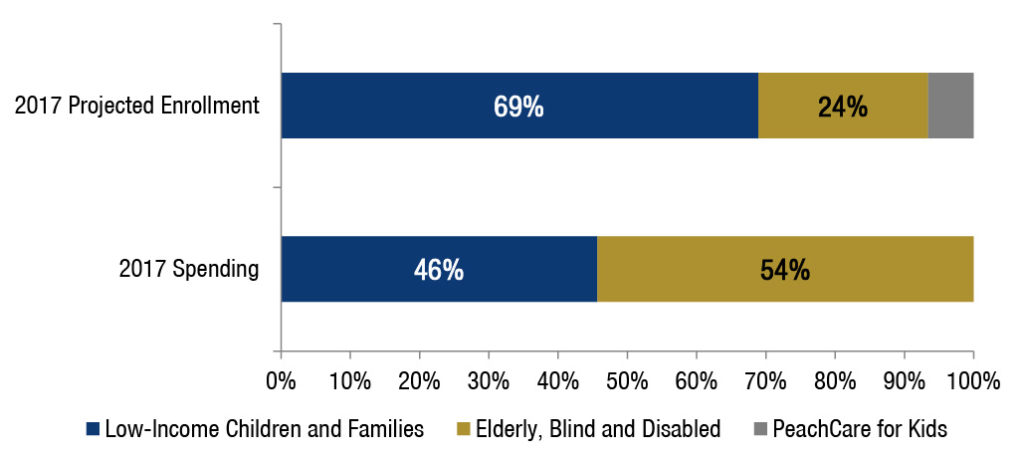 Medicaid is a major source of payment for health services, which helps a financially-strapped health care system avoid even more dire straits. Medicaid is especially important for rural and safety net hospitals that serve disproportionately more vulnerable patients and rely on Medicaid for a larger percentage of their revenue.
So when Congress returns from recess soon and you might hear claims that scaling back Medicaid will benefit Georgia's patients and its struggling health care system, ask yourself how that can be true for the 2 million Georgians who depend on it. Because if subsequent attempts at remaking the federal health care law resemble the first one, both the state's people and its bottom line will suffer.