Georgians struggling to move from poverty to the workforce stand to gain new pathways to employment under a proposed change to one of the country's primary assistance programs.
This summer the U.S. House of Representatives' tax-writing committee approved the Joining Opportunity with Benefits and Services (JOBS) for Success Act, which aims to reauthorize the Temporary Assistance for Needy Families (TANF) program through 2023. The federal government sends Georgia a few hundred million dollars each year through this large work support program to help support families striving to make ends meet. The proposal is designed to strengthen the program by giving states more flexibility to invest in education and training for meaningful family-supporting careers. That is sure to improve economic opportunity for nearly 13,000 Georgia families that receive cash assistance.
Federal policy now requires states to report work participation rates, which is just a measure of the amount of time a person participates in an activity that qualifies as work. The work participation rate is a limiting metric that does not give states credit for encouraging TANF recipients to take part in other productive activities, such as vocational education or training.
States are required to ensure at least 50 percent of work-eligible adults who receive TANF participate in some work-related activity, such as training or actual employment. If states fail to meet this target, they lose federal TANF funding. The participation rate only measures the time people engage in work activities. A better measure is for the state to determine if activities improve the employability and earnings of participants. Just 24 percent of Georgia's work-eligible TANF recipients in 2016 participated in vocational education or job skills training according to data collected from the Administration for Children and Families
The pending TANF bill proposes to move away from this one-size-fits all approach by lifting the cap on the percentage of work-eligible adults in education and training who may be counted in the work participation rate. This will give Georgia and other states new flexibility to ensure more TANF recipients pursue meaningful activities that can lead to long-term economic security. The following employment-related outcomes will also count in the state's favor if the bill becomes law:
An increased percentage of work-eligible recipients in unsubsidized employment after leaving the TANF program
An increased percentage of work-eligible recipients who remain employed for at least four quarters after leaving the TANF program
An increase in earnings for people after they leave TANF
An increased percentage of work-eligible recipients under 24 years old who secure a high school diploma or GED while they receive assistance or one year after leaving the TANF program
If Congress passes the bill and the president signs it, Georgia will need to make some important decisions about how it allocates its TANF funding. The state now spends more than half of its TANF block grant on child welfare services and less than 3 percent on work, education and training activities. Georgia ranked 41st among states in 2016 for percent of TANF funds dedicated to core work and education activities.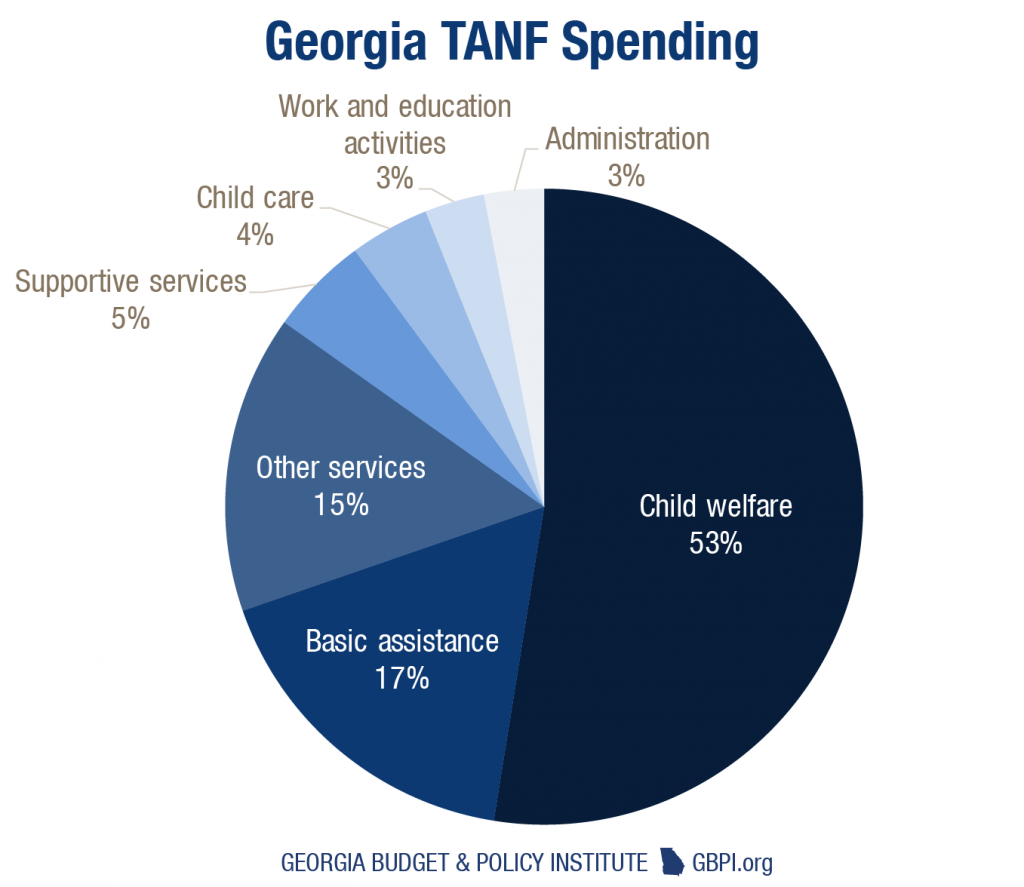 A 2017 Georgia State University report underscores the importance of pairing cash assistance with stronger training to help move people toward economic security. It's especially important in the case of parents. The rigorous review of TANF data by the school's Center for State and Local Finance shows at least 80 percent of all recipients in Georgia remained below the federal poverty level 12 months after leaving the program.
In Georgia, modest reinvestments of TANF money can efficiently help recipients prepare for meaningful careers. Georgia's Department of Human Services is exploring a career pathways program to help enroll low-income TANF recipients in technical colleges in the state. The proposal is designed to also to serve people outside the TANF program. A key feature is a suite of support services to help participants launch careers in high-demand, well-paying occupations, such as information technology and health care. The estimated start-up cost is just a 9 percent slice of Georgia's $331 million TANF allocation.
Improving substantive training and education for TANF recipients is critical for their long-term economic mobility. The House's TANF proposal holds a promise to give Georgia some stronger education and training tools to help move families out of poverty. If the bill passes, state lawmakers will need to strike a careful balance. Georgia today uses most of its annual TANF allocation to pay for critical child welfare services. The best outcome for Georgians as this evolves in the coming year is a federal reauthorization that gives states needed flexibility, paired with a state-level push to adequately fund both child welfare and adult education and training. Picking one over the other is an untenable choice.