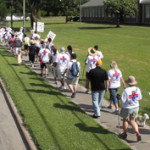 By Ann Hedges and Tim Sweeney
On Monday, Belhaven, N.C. Mayor Adam O'Neal started a 283-mile walk to our nation's capital to advocate for a way to reopen his community's hospital. This is his second long trek to Washington, D.C. to draw attention to the struggles of rural health facilities since the Belhaven hospital shut its doors 12 months ago. This year walkers from 42 other states are joining him for The Walk to support his effort to raise awareness for what he calls a "rural health care crisis."
Belhaven isn't very different from much of rural Georgia. It doesn't boast extravagant attractions or expensive tourist traps. It's a quaint rural community, with a convenient place to dock along the Atlantic Intracoastal Waterway. The population is small, not even 2,000 people, and the county is home to fewer than 50,000. Without local health care access, some residents in surrounding communities face 75-mile trips to the closest emergency care facility. When hospitals like Belhaven's close, it creates real hardships for people living in rural communities throughout Georgia and the U.S.
That's why O'Neal is no longer walking for just the hospital in his town, but for all rural hospitals facing closure across the country. He is using social media to promote awareness for the cause using the #savethe283 hashtag. The 283 refers to the number of hospitals identified by a National Rural Health Association report as vulnerable to closure in 2015. Several of those 283 are in Georgia.
In a little over a decade, Georgians lost eight rural hospitals, half in the past two years. Fifteen rural Georgia hospitals are "financially fragile" and six of them struggle to operate "day-to-day," according to the 2015 final report from the Governor's Rural Hospital Stabilization Committee.
These institutions are cornerstones of their community and deliver much more than health care. For every hospital position, 2.27 jobs are created in the community, according to the Georgia Hospital Association's Economic Impact report. . The association also estimates that the last four hospital closures in rural Georgia cost the state economy $68 million and 980 non-hospital jobs.  Even a single hospital closing can decrease revenue in a rural economy by as much as 20 percent and increase the local unemployment rate by 2 percent, according to the national association.
The important role rural hospitals play in Georgia communities and the steps state lawmakers can take to ensure the solvency of these vital institutions is the focus of 2015's  "Strengthening Georgia's Rural Hospitals and Increasing Access to Care" report, produced by the Georgia Budget and Policy Institute with several of its partners.
A critical first step is for Georgia to increase access to health insurance for the hundreds of thousands of rural residents now uninsured.  Nearly 300,000 low-income Georgians fall into the insurance coverage gap because state leaders reject Medicaid expansion. Rural Georgia is disproportionately hurt by this decision. One in four rural residents live in poverty, a rate 8 percentage points higher than in urban and suburban areas. Extending coverage to these and other low-income residents could bring $3 billion in federal funds to the state's health care system each year, and help generate $6.5 billion annually in new economic activity. More than 60 percent of this increase in economic activity is expected to occur outside the 10-county Atlanta region.
Denying Georgia's health care system this critical investment will almost certainly exacerbate the struggles faced by rural hospitals and lack of health care access for more than 1.7 million people who reside in rural communities across the state. Both uninsured and insured rural residents will be affected if another hospital is forced to close. The Rural Hospital Stabilization Committee calls for a four-hospital pilot project to improve care coordination using existing resources, but this is not enough. Sixty-three rural hospitals in Georgia play an outsized role in their communities and closing the coverage gap can dramatically increase health coverage and reduce uncompensated care in each of the communities served by these hospitals.
For more information about The Walk, check out the website www.thewalknctodc.com or follow the group on Twitter with hashtag #savethe283.
Ann Hedges is a GBPI summer intern focusing on health care issues, Tim Sweeney is GBPI's Deputy Director of Policy.