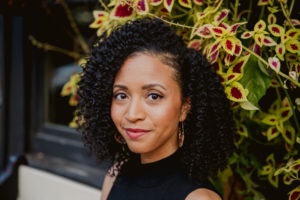 ATLANTA—Today, the Georgia Budget and Policy Institute announced the hiring of Dominique Derbigny Sims as the new senior vice president. Derbigny Sims currently serves as deputy director of Closing the Women's Wealth Gap (CWWG), a national network of more than 600 advocates and leaders focused on changing federal policies to strengthen women's economic security.
"Throughout Dominique's career, she has shown time and again her commitment to advancing racial equity and economic opportunity," said GBPI President and CEO Taifa Smith Butler. "Her broad skill set and deep policy experience will help guide GBPI as we transition to the next era at our organization and in Georgia."
"I'm thrilled to be joining GBPI, an organization I have admired for quite some time," said Derbigny Sims. "Their commitment to advancing anti-racist policies that promote prosperity throughout Georgia clearly aligns with my life's work improving economic outcomes for women and people of color. I look forward to working with the staff, partners and other stakeholders to ensure that, in a post-COVID world, Georgia doesn't return to the status quo but instead prioritizes people-centric policies that will help every family thrive." 
Derbigny Sims has spent the past decade working in collaboration with nonprofit organizations across the country to create a more equitable society and economy. At CWWG, she led the organization's strategic planning process with an explicit focus on centering women of color, wrote On the Margins: Economic Security for Women of Color through the Coronavirus Crisis and Beyond in collaboration with network members and launched the CWWG Community Leaders Fellowship to amplify the voices of Black and Latina women facing economic insecurity. She previously served as associate director of the Savings and Financial Capability Team at Prosperity Now. She also previously worked as program director of MetroCASH, the Earned Income Tax Credit coalition serving Richmond, Virginia.
In 2018, Derbigny Sims was selected to participate in the Rockwood Leadership Institute's Art of Leadership for Black Women in Georgia. She has an MSW from the University of Maryland, Baltimore, and a BA in Human Services from Elon University. She is based in Atlanta, Georgia.
Her first day at GBPI is May 3, 2021. She will serve as a top leader in the organization as GBPI transitions to a new CEO and president.