– Update on Feb. 26: House Bill 218 proposes to extend the time that students have to use the HOPE Scholarship from seven to 10 years after high school.
– Update on Feb. 20: House Bill 928 proposes to extend the time that students have to use the HOPE Scholarship from seven to 15 years after high school.
Albany State University Junior Amber Parker's path toward her college degree took a few twists and turns, even before her studies began. She finished high school in 2008 and knew she needed more education to pursue the kind of career she wanted.
"You can't survive working at a fast food restaurant," she said in a recent interview.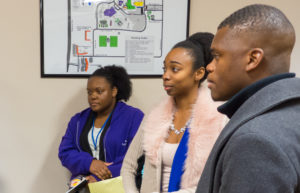 But life kept tossing roadblocks in her way. Her family struggled with health problems and financial struggles soon followed, leaving little time and money to pursue her education dream.
Fast forward to 2018, Parker carries a 3.83 GPA at Albany State and on her way to a degree in Health Care Management. She pieces together a combination of Pell Grant assistance, student loans and about 15 hours a week of work-study to pay to maintain progress toward a degree.
One option that is off the table is help from Georgia's HOPE Scholarship. If not for the program's requirement that students lose HOPE eligibility seven years after graduating from high school, Parker's good grades might help her to make faster progress toward a degree. Or she might be able to avoid running up student debt to pay for classes.
Students over age 25 account for 17 percent of university system students and 44 percent of technical college associate's degree students, so stories like Parker's are not rare. About 57 percent of freshmen will graduate with their bachelor's within six years.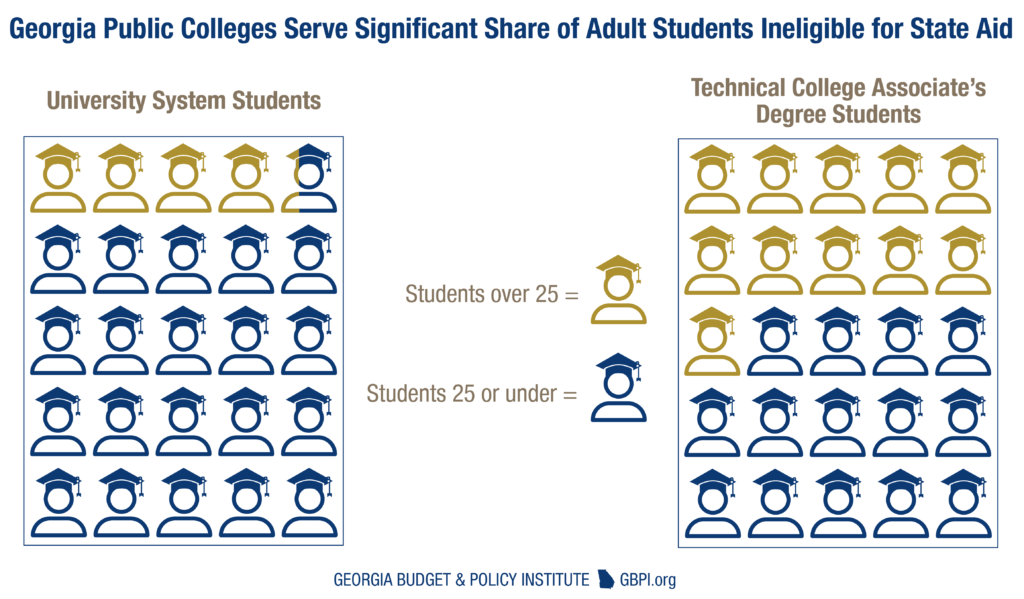 Adult students often take time after high school to get technical college credentials, or work and care for their families. Twenty-two percent of Georgia high school graduates start working right after finishing high school. When they return to school for better educational and job opportunities, they are left to apply for federal grants, loans or pay out of their own pocket. This is a barrier to opportunity for both the student's goals and state's long-term aim to add 250,000 more graduates by 2025.
"There's no high school graduation time limit for loans."
Georgia's main strategy for the past 25 years to ease college access and affordability is to offer HOPE scholarships and grants through a lottery-funded program. HOPE helped a generation of Georgians pay for college, and it is the largest state merit-based aid program in the country.
While the state's financial aid strategy remains largely the same since the year President Bill Clinton first took office, the students and the world around it didn't. HOPE is not designed to address some of the evolving needs of the 21st century. Investing in HOPE alone is an incomplete and insufficient state aid and higher education investment strategy.
State aid policies and programs need to work to include adult students who take a roundabout path to graduation. Serving adult students is critical to Georgia reaching its state college completion goals. To reach those goals, more than 20 percent of new credentials need to come from adult students, according to analysis from the Education Commission for the States.
How much will Georgia need to invest to remove the seven-year time limit?
Assuming 36 percent of students over age 25 qualify for the HOPE or Zell Miller scholarships, removing the seven-year time limit could help about 19,000 students in the university system and 7,000 students in technical colleges. If HOPE awards for these students were similar to today's average HOPE awards, the estimated cost to remove the time limit is $68 million. That's based on today's average $3,145 HOPE award in Georgia's university system and $1,248 at technical colleges.
It's an investment in Georgia's future workforce state lawmakers can make this winter as the General Assembly debates education policies. Even if that happens during this session, it is likely a little too late to help Parker much. She is on track to graduate in December 2018 and will probably need to continue to rely on her patchwork of grants, loans and work study.
Unlike HOPE, taking on student debt doesn't come with an expiration date.
"There's no high school graduation time limit for loans," she said.
More details: "Strengthen Georgia's Workforce by Making College Affordable for All
* Correction: This blog is now updated to say 17 percent of Georgia's university system students are over 25. A prior version incorrectly said 20 percent of students are over 25.
University System of Georgia Undergraduates Over Age 25 by School

School
# Students Older than 25
% Students Older than 25
Georgia State University
12,903
25%
Kennesaw State University
7,015
21%
Albany State University
3,252
35%
Clayton State University
3,136
44%
Middle Georgia State University
2,619
29%
University of North Georgia
2,426
13%
Georgia Gwinnett College
2,390
18%
Columbus State University
1,794
25%
Armstrong State University
1,691
24%
Georgia Highlands College
1,449
21%
Valdosta State University
1,427
15%
Georgia Southern University
1,322
7%
Atlanta Metropolitan State College
1,190
32%
University of West Georgia
1,163
10%
Dalton State College
1,004
18%
Augusta University
979
19%
College of Coastal Georgia
950
26%
University of Georgia
892
3%
Gordon State College
877
19%
Bainbridge State College
756
41%
Georgia Southwestern State University
749
29%
Georgia Institute of Technology
539
3%
Abraham Baldwin Agricultural College
488
13%
South Georgia State College
428
15%
Fort Valley State University
419
17%
Savannah State University
407
8%
East Georgia State College
350
10%
Georgia College & State University
129
2%