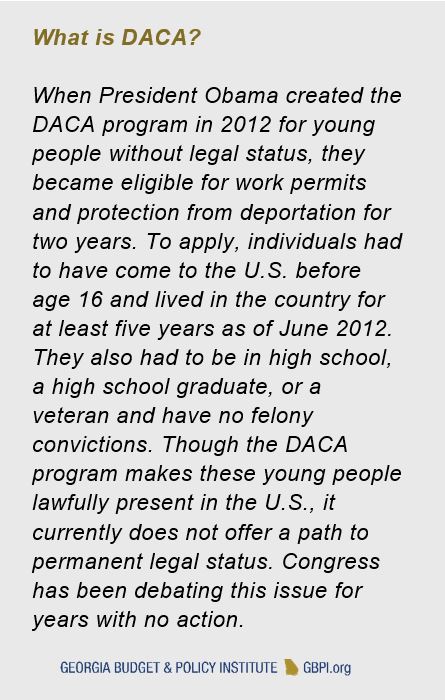 The Deferred Action for Childhood Arrivals (DACA) program was established in 2012 and granted some undocumented immigrants brought to the United States as children temporary relief from deportation. Since its inception, DACA has provided relief to approximately 21,110 individuals who have made a home and built a life in Georgia, contributing to our communities as neighbors, business owners and even religious leaders.
In September 2017, the Trump Administration announced a plan to end DACA, causing the fate of thousands of young Georgians to enter a legal limbo. After several judicial challenges and lower court injunctions, the U.S. Supreme Court will hear oral arguments on November 12, 2019 to decide whether the administration's policy change on DACA is reviewable by the Court and if so, whether the termination of DACA was lawful.
Approximately 21,110 DACA recipients in Georgia will be affected by the Court's ruling. When DACA recipients and their families are threatened, we all lose. In Georgia alone, DACA recipients contribute approximately $66 million a year in state and local taxes. Georgian DACA recipients hold a collective, annual spending power of approximately $802.7 million dollars, contribute approximately $22.4 million dollars in annual mortgage payments and $83 million dollars in annual rent payments.[1]
The City of Clarkston, City of Atlanta, Latin American Association and other Georgia organizations have signed onto amicus briefs in recognition of the benefits of the DACA program.[2]
The ruling will affect more than current DACA recipients. Since the Department of Homeland Security's (DHS) attempt to end DACA in 2017, the lower courts authorized a temporary nation-wide injunction that allowed the government to continue processing DACA renewals but halted the submission of first-time, initial DACA applications. The Migration Policy Institute estimates that prior to the litigation there were approximately 44,000 DACA-eligible Georgians who could benefit from the program's continuation.[3] This figure does not fully capture those that have become eligible since September 2017 and have been blocked from submitting initial DACA applications.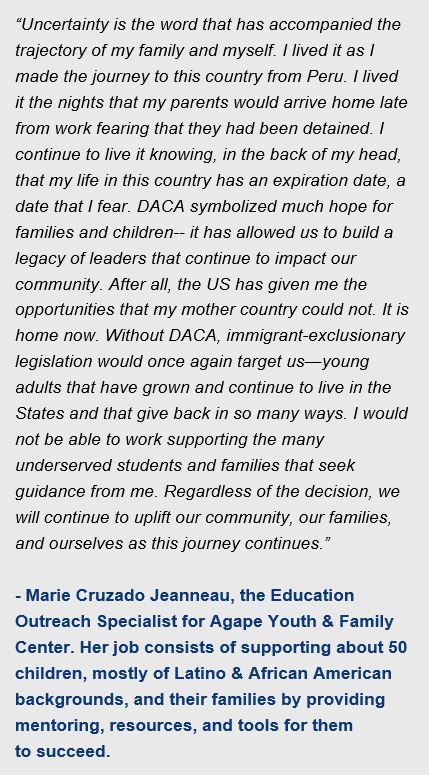 There are also approximately 7,600 U.S.-born children of DACA recipients living in Georgia whose familial stability will be jeopardized if the Court finds the termination of the program to be lawful. A study on how detention and deportation affect US-born children of immigrants found that when there is a threat of deportation to their families, citizen-children of undocumented parents are more likely to live in poverty, experience discrimination and suffer from poor mental and physical health outcomes.[4] As a part of the rigorous vetting process conducted by the DHS, DACA recipients volunteered extensive personal details to the government, including their address and fingerprints. If DACA protections end, they are at risk of deportation.
Ultimately, there are a few different outcomes the Supreme Court can reach, but none of them provide a permanent solution for DACA recipients.[5] Even if the Court finds that the termination of DACA is unlawful, the federal administration can offer different legal reasoning to end the program in conformity with the law. Georgians should join voices from around the country to pressure Congress to pass a comprehensive immigration reform plan with a pathway to citizenship for all undocumented immigrants, including DACA recipients. Until then, the lives of DACA recipients will continue to hang in the balance as the Court weighs their future and renders a potentially life-altering decision that is expected in the spring of 2020.
[1] Svajlenka, Nicole Prchal. (September 2019). What We Know About DACA Recipients, By State. Retrieved from https://www.americanprogress.org/issues/immigration/news/2019/09/12/474422/know-daca-recipients-state/
[2] Center for American Progress Immigration Team. (November 2019). More Than 1,400 Organizations and Individuals Voice Their Support for DACA. Retrieved from https://www.americanprogress.org/issues/immigration/news/2019/11/07/476945/1400-organizations-individuals-voice-support-daca/
[3] Deferred Action for Childhood Arrivals (DACA) Data Tools. (n.d.). Retrieved from https://www.migrationpolicy.org/programs/data-hub/deferred-action-childhood-arrivals-daca-profiles; Note: Number refers to those who could have become DACA-eligible before it was terminated by the Trump administration in September 2017.
[4] Heffron, Laurie Cook & Zayas, Luis H. (2016). Disrupting young lives: How detention and deportation affect US-born children of immigrants. American Psychological Association.
[5] DACA Heads to the U.S. Supreme Court: Where Are We Now & What Could Happen Next (September 2019). Retrieved from https://www.nilc.org/issues/daca/daca-heads-to-scotus-scenarios/