State lawmakers introduced several bills in the 2019 legislative session that could significantly alter the Teachers Retirement System of Georgia (TRS) if passed in 2020. There are 390,000 current and former Georgia educators participating in the pension system as either active members or benefits recipients. Any changes to TRS have immense implications to the state's education workforce as well as the financial health of the state of Georgia. This fact sheet explains the basic concepts of TRS, how it is funded and where it stands financially.
What is the Teachers Retirement System?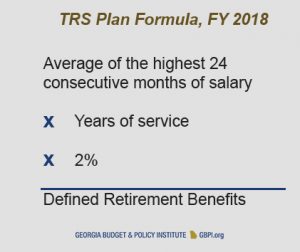 TRS administers retirement benefits to employees of local school systems, charter schools, technical colleges, county and regional libraries, Regional Education Service Agencies (RESAs), the University System of Georgia (USG) and certain state agencies. Established in 1943, TRS administers a single, defined retirement benefit that is determined by a calculation using the number of creditable years of service and final average salary multiplied by 2 percent. To receive any benefits, a member of TRS must have 10 years of service.
A complex combination of state laws, board rules and federal laws govern the management of TRS. Below is a short summary of the funding for TRS, the system's projected liabilities and how the state of Georgia has planned to address any outstanding obligations.
Pensions in the Southeast
Public pensions across the United States experienced similar losses during the last economic recession. The chart below displays a survey of the percent of teacher pension system that is funded and the average annual benefit for nine southeastern states. The average annual benefit is the average amount that each retiree receives in benefits from that state's teacher pension system.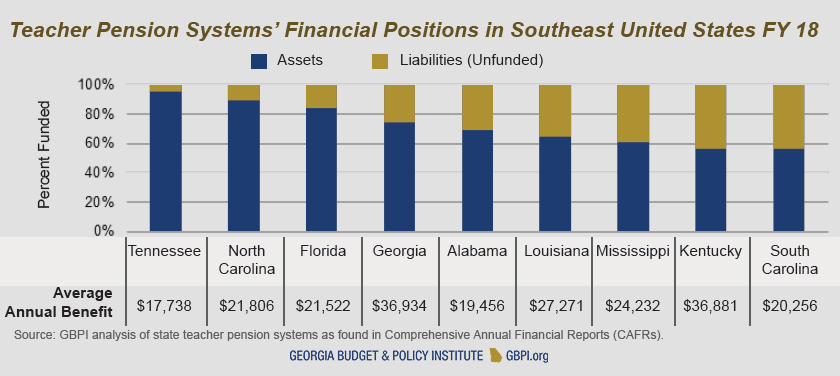 Georgia's teacher pension system, like many government pensions in the United States, sits at the heart of discussions about the state's responsibility for its public servants. With assets that nearly triple the state's yearly budget and the financial health of hundreds of thousands of retirees in the balance, TRS leadership and state lawmakers carry a considerable duty to the state. For these reasons, any deliberation of changes to the program must be undertaken with the utmost care.
[1] Meaning that Georgia teachers that participate in TRS contribute 6 percent of their pretax salary annually.
[2] For the purposes of this fact sheet, the state is considered the single employer for TRS-participating employees even though local school districts contribute to the employer share of annual contributions.
[3] National Association of State Retirement Administrators. Investment. Retrieved from: https://www.nasra.org/investment
[4] O.C.G.A § 47-3-23 (2017)
[5] As a defined benefits plan, vested members are guaranteed payments for their lifetime. For this reason, demographic trends such as the average life expectancy of TRS members must be considered in projections of financial liabilities.
[6] Teachers Retirement System of Georgia. (2018). Comprehensive Annual Financial Report. Retrieved from: https://www.trsga.com/wp-content/uploads/TRS_CAFR_1718.pdf
[7] Georgia Department of Audits and Accounts. (2019). Special Examination – Report No. 18-11.
[8] Brainard, K. & Brown, A. The Annual Required Contribution Experience of State Retirement Plans, FY 01 to FY 13. National Association of State Retirement Administrators.