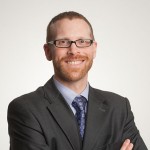 Georgia continues to rank near the bottom for access to health insurance and the growth in Georgia's uninsured rate continues to outpace national averages, according to a new U.S. Census Bureau report this week.
These rankings reflect more than a decade of failed health care policy in Georgia that increased barriers to enrollment in public programs while employer-sponsored coverage declined more rapidly than in the nation as a whole. Still, state leaders stand opposed to using new tools available through the Affordable Care Act to increase health coverage by expanding Medicaid and by encouraging enrollment in health insurance available through a new federal insurance marketplace.
This week's release again shows the scope of the uninsured crisis Georgia faces and underscores the importance of new health insurance coverage options set to take effect under the Affordable Care Act. Furthermore, it provides fresh evidence of the importance of Medicaid expansion in Georgia.
Additional data to be released Thursday will paint a more complete picture of health coverage in Georgia; Tuesday's Current Population Survey data allows a comparison of health coverage trends since the years 1999 and 2000. In order to compare across states and across years, two-year averages are used.
During the 2011 and 2012 period, 21.5 percent of all Georgians under 65 went uninsured. This rate ranks as the seventh highest of any state in the U.S. Furthermore, as shown in the chart below, Georgia's uninsured rate is more than four points above the national average and grew twice as fast as the national figure since the two year period 1999 and 2000.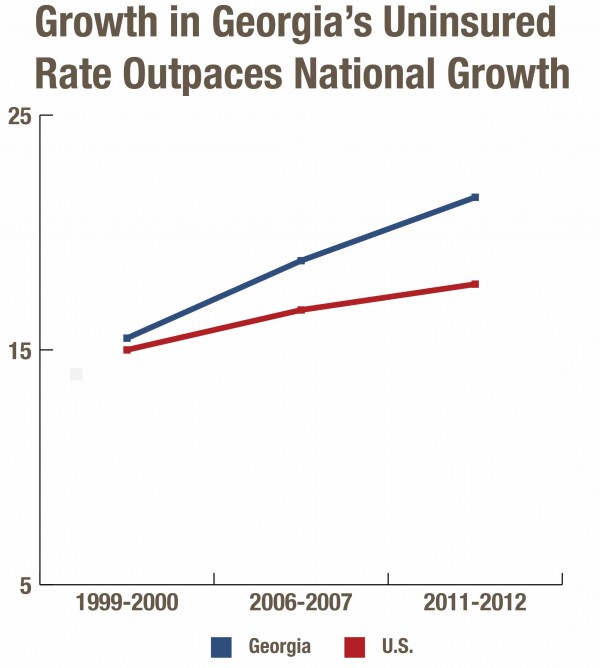 The dramatic increase in the uninsured rate for Georgians under 65 is partially due to a more rapid decline in employer-based coverage in Georgia than in the nation as a whole. Over the two years 2011 and 2012, only 54.6 percent of Georgians under-65 had coverage through an employer or relative's employer, compared to 58.4 percent nationally. In the two-year period 1999 and 2000, Georgia's employer-coverage rate was identical to the national rate at 68.7 percent. If the state's employer-coverage rate in the two-year period from 2011 to 2012 remained identical to the national average, 300,000 more Georgians would have health coverage and Georgia's uninsured rate could be more than three points lower than in the 2011 and 2012 period.
The new Census data also shows Georgia is falling behind other states providing coverage to children. In the 2011 and 2012 two-year period, Georgia's uninsured rate for children was the eighth highest of any state, at 11.9 percent. Although coverage for children has improved nationally since the 1999 and 2000 period, Georgia's uninsured rate has actually increased.
While Georgia's uninsured rate for children used to fall below the national rate, Georgia's children now lack coverage at a higher rate than in the nation as a whole.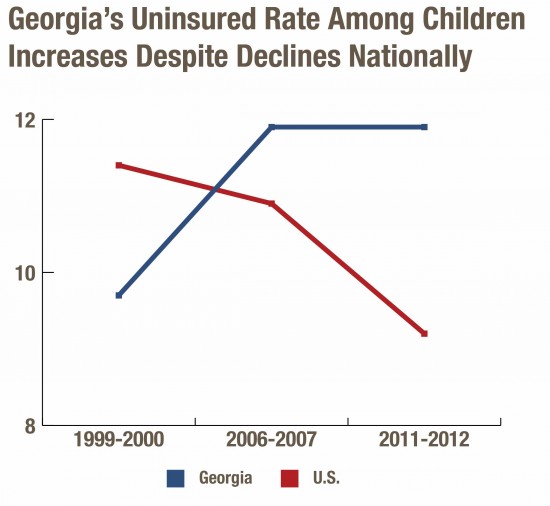 Over the last decade or more, Georgia's policymakers enacted barriers to enrollment in Medicaid and PeachCare, increased the out-of-pocket costs for PeachCare families and virtually eliminated outreach support to help eligible children and families enroll in state-funded programs. These policies delivered predictable results – Georgians' access to health coverage is among the worst in the country and it is worsening at a higher rate than in other states.
The Census data released this week should be a wake-up call for Georgia's leaders who now argue against expanding access to health coverage through Medicaid and who erect new barriers to coverage in the name of opposing "Obamacare." Only four states are home to more uninsured residents than Georgia. Only three states are home to more uninsured children than Georgia. The discrepancy in those two numbers is due to the fact that Georgia is now home to more uninsured children than New York, despite the fact that nearly twice as many people reside in the Empire State.