Since FY 2011, lawmakers have appropriated an average of $60 million more every year for HOPE Scholarships and Grants than students receive.[1] Over time, the state treasury has amassed nearly $1.3 billion in lottery reserves built up from unspent surplus funds.[2] Georgia is required by law to have 50 percent of the prior year's net lottery proceeds saved in case of a shortfall, or $572 million.[3] Lottery reserves exceed that benchmark by more than $700 million.
Georgia voters expect lottery revenue to support education, but many lottery dollars sit unused. Georgia has never had to use its shortfall reserves and has a healthy shortfall reserves requirement. In recent years, the General Assembly chose to use more lottery dollars for pre-K teacher raises. The state could also take advantage of unused lottery dollars to strengthen Georgia's HOPE programs.
Important Numbers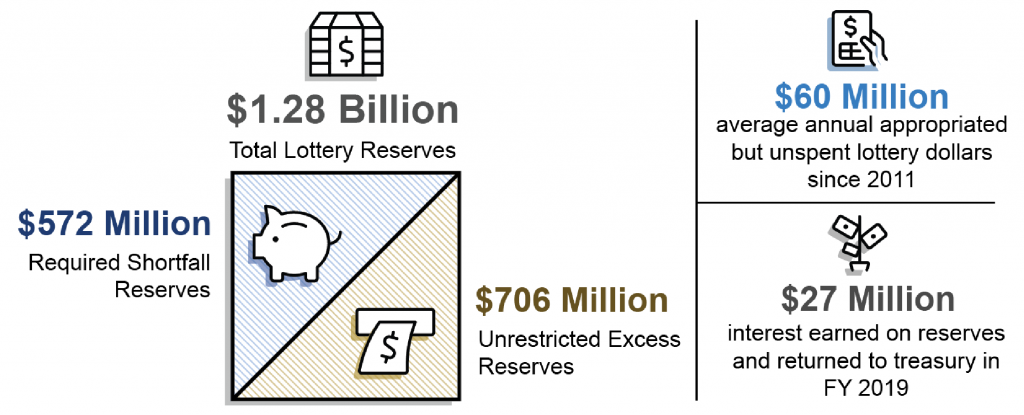 Options for Using Lottery Reserves for Education
| | |
| --- | --- |
| Spend down excess unrestricted reserves for education over time | Dedicate interest income from reserves to education instead of putting it back into the state treasury |
Ideas for Enhanced Lottery Spending
| | |
| --- | --- |
| Expand HOPE Career Grants for high-demand careers up to the associate degree level | Fund need-based HOPE Scholarships to address the high cost of college for struggling students |
[1] GBPI analysis of surplus to lottery for education reserves reported in Governor's Budget Reports, FY 2014 – FY 2021.
[2] State Accounting Office. Georgia Revenues and Reserves Report, Fiscal Year Ended June 30, 2019. https://sao.georgia.gov/ statewide-reporting/georgia-revenues-and-reserves
[3] Georgia Code § 50-27-13.