Another round of damaging cuts to schools, health care, public safety and other vital services is looming unless the governor and General Assembly take a balanced approach to the state's ongoing budget  crisis, one that includes additional revenue.
Despite four years of crippling cuts, revenues continue to lag, and the Governor's Office of Planning and Budget (OPB) has  ordered  state agencies to submit  plans by Sept. 1 to cut general fund spending by  3 percent  in both the amended budget for the current fiscal year (2013) and the FY 2014 budget.  The Department of Community Health was told  to submit plans for FY 2014 that include an additional 2 percent cut.  A handful of school programs would be spared from cuts both fiscal years: basic funding for all K-12 schools, equalization grants to assist school districts that lag in local property tax revenue, and funding for schools for seeing- and hearing-impaired students.
Anemic revenue isn't the only problem. Policymakers also face the lack of a surplus to fund mid-year changes in K-12 school spending, existing budget shortfalls in FY 2013 (including a $300 million Medicaid shortfall), and the expiration in FY 2014 of a fee on hospitals that is used to attract additional federal Medicaid matching funds.
The spending cuts  would total $256 million in the Amended FY 2013 budget and $298 million in the FY 2014 budget.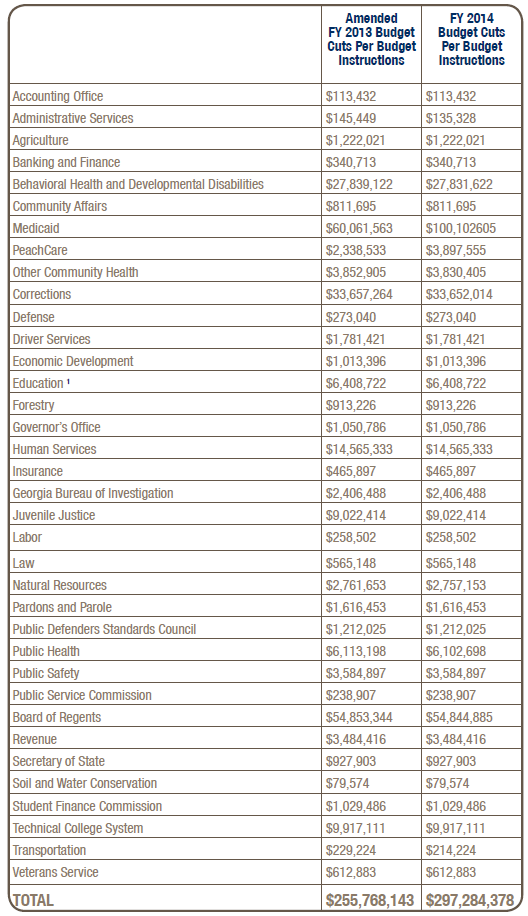 Even that may be optimistic. Without strong revenue growth in both FY 2013 and FY 2014, it is likely that the  cuts will be significantly worse than what the Governor's budget office ordered.  The outlook is bleak.  Georgia State University's Economic Forecasting Center recently  projected that revenues will continue to grow at only a moderate pace.
There is a better way than more cuts. A balanced approach to this ongoing crisis, one that includes additional revenues through truly comprehensive tax reform, will help assure Georgia can make the investments necessary for robust job growth and a strong economy. A strategy of continued crippling cuts to education, health care, public safety, and economic development efforts, combined with an outdated and inefficient tax system, will only squelch  economic growth and make our problems worse.
1 Quality Basic Education, Equalization, and State Schools programs ($6,945, 910,018) are exempt from cuts.