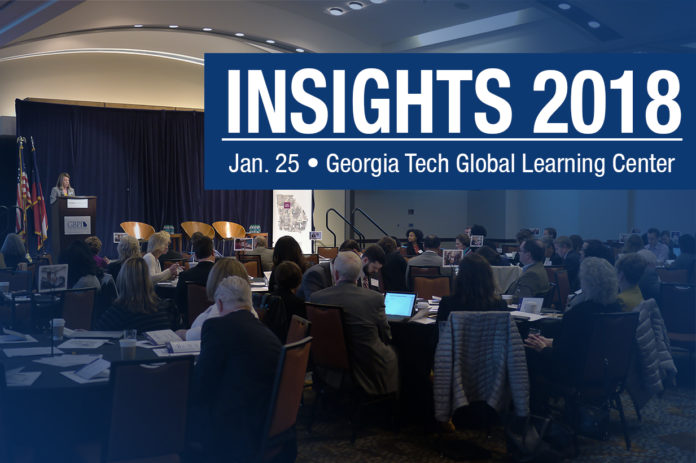 GBPI's annual Insights Policy Conference returns on Jan. 25, 2018, to bring together a broad range of stakeholders passionate about pressing state policy issues facing Georgia. As GBPI's signature event, this conference provides the most up-to-date analysis of state policy through briefings on just-released state budget proposals, salient speakers addressing timely topics and thought-provoking discussions.
Learn what's working in Georgia's public schools where poverty is concentrated and what more can be done to better serve their students. Hear ways the can the state improve access to mental health treatment. And be among the first to hear our new comprehensive vision for a Georgia where everyone can participate and thrive, People-Powered Prosperity.
If you are interested in sponsoring this year's conference, please follow this link and complete the form on that page.
Early bird registration is still available for $100, which includes breakfast and a hot lunch.
When: Thursday, Jan. 25, 8 am to 3:45 pm
Where: Georgia Tech Global Learning Center (Directions and Parking)
Conference Agenda
8:00 am

Breakfast

8:30 am

Welcome and Legislative Panel Discussion

9:15 am

GBPI 2018 State Budget Analysis

9:45 am

People-Powered Prosperity

10:00 am

Session Option 1: What's Making a Difference in High-Poverty Schools

Session Option 2: Behavioral Health Equity: Improving Access

11:20 am

Networking/Lunch

12:00 pm

Keynote by Manuel Pastor, Professor of Sociology and American Studies & Ethnicity at the University of Southern California

1:45 pm

Session Option 1: Opening Doors to Education Beyond High School

Session Option 2: Building Futures Through Affordable Early Learning for Georgia's Children

3:00 pm

Dispatches from Washington

3:30 pm

Closing
To register as an attendee for the Insights Policy Conference, fill out the form below.
Form not working properly? Use this link.