This morning, the House Committee on Appropriations approved changes to House Bill 81, the proposal for Georgia's Fiscal Year (FY) 2022 budget, which will take effect on July 1. This proposal now moves to the full House floor for a vote.
Gov. Kemp's initial budget proposal included $1.2 billion in continued budget cuts, following the approximately $1.7 billion in cuts implemented this year. The House Committee on Appropriations restored some funding cuts across key programs and services, but education funding remains $675 million below FY 2020 levels, and other state agencies will continue to face budget cuts as well.
At a time when millions of families are experiencing heightened needs due to the pandemic, Georgians need more funding to these critical services and programs to address the ongoing harm caused by COVID-19 and foster prosperity in every community.
Below are some highlights of changes made to agency budgets by the House Committee on Appropriations.
Criminal Legal Systems
The House budget maintains more than $82 million in cuts from total funding compared to FY 2020. This will continue to make necessities, including hygiene products, much more difficult to access for those who are incarcerated. It will also increase the financial burden on the loved ones of Georgians who are incarcerated.
This proposal for the Georgia Department of Corrections includes:
$54 million cut from state prisons, including a $5 million cut achieved by raising commissary prices
$13 million cut from private prisons
$6 million cut from transition centers
A 10 percent pay increase, implemented by using existing funds, to Georgia Department of Corrections staff and private prison staff
Department of Behavioral Health and Developmental Disabilities
Georgia continued to see a growing demand for mental health and substance use disorder services during the pandemic. The latest proposal restores $58.5 million of the $91 million in total department budget cuts compared to the FY 2020 budget. Other changes made by House Appropriations include:
New funds added for core services, including $2.7 million for adult substance use disorder services and $6.5 million for adult mental health services
$12.3 million added for a 5 percent rate increase for intellectual and developmental disability providers with approval from the federal Medicaid agency
$4.7 million added to restore cuts to family support services, which help to serve people on the waiting list for Medicaid home and community-based services
$2 million added to expand the Georgia Apex Program, which provides mental health services in pre-K-12 schools
Department of Community Health
Changes made by House Appropriations include:
Reimbursement rate increases including: $25.3 million for a 10 percent rate increase for home and community-based service providers, $11.9 million for a 2 percent rate increase for skilled nursing facilities and $7 million to increase payment for select primary care services to 100 percent of 2020 Medicare levels
$7.5 million added to support strategic measures to stabilize nursing home staffing
$500,000 added for two new federally qualified health centers in Jeff Davis County and Marion County
Economic Mobility
Overall, $25 million in cuts are maintained compared to the FY 2020 budget for the Department of Human Services budget. No state funds are being added to support basic cash and work assistance programs at a time when these programs are increasingly looked to by Georgians in need statewide. Changes made by House Appropriations that relate to economic mobility include:
$3.5 million added to create 625 slots for Georgia's Child Care and Parent Services (CAPS) program, administered by the Department of Early Care and Learning, that serves working families with low incomes
$952,000 in cuts restored to the Department of Human Services for the Multi-Agency Alliance for Children, which provides educational services to youth in foster care
$99,458 added to appoint a Chief Labor Officer at the Department of Labor, a position that will oversee all unemployment insurance matters and respond to financial audit requests
Department of Public Health
State funding remained relatively flat in recent years, but the public health agency received new federal support for COVID-19 relief. Lawmakers prioritized more state funding for public health this year as it will remain vital for the state's recovery amid the pandemic and beyond. Changes made by House Appropriations include:
$1.5 million added to fund ongoing maintenance of the vaccine management system
$857,000 added for three new agency positions created in this year's amended budget: chief medical officer, deputy commissioner of public health and chief data officer
$200,000 added to provide free feminine hygiene products through county health departments
Restores cuts to grants for the Sickle Cell Foundation of Georgia
Higher Education & Lottery Funded Programs
Ongoing budget cuts have forced many schools to cut staff, eliminate programs and struggle with capacity. Overall, the budget includes combined cuts to the University System of Georgia and the Technical College System of Georgia of $264 million below FY 2020 funding levels. Changes made by House Appropriations include:
$7.8 million added for increased medical education funding through the Board of Regents
$9 million added for non-teaching programs under the Board of Regents (e.g. Agricultural Experiment Station, Cooperative Extension Services)
Dual Enrollment funding reduced by $7 million to meet project need
HOPE Grants funding adjustments included to meet projected need
Further reduces funding for pre-K disability services, which are funded through lottery dollars, for a total cut of $7.2 million below FY 2020 levels
K-12 Education
Georgia's K-12 public schools have only been fully funded in two of the past 19 years. This proposal continues that pattern of underfunding the Quality Basic Education formula by $393 million below FY 2020 levels. Changes made by House Appropriations include:
$1.8 million added to the state's pre-Kindergarten program for classroom operations
$1 million added for charter school facility grants
$5 million added for school nutrition
Additional $2.8 million for the state charter school commission administration
While Georgia must continue to call for comprehensive federal relief, which will provide temporary relief in funding to state and local governments, lawmakers have clear options to utilize now and restore funding to the remaining cuts in this budget proposal. These options include: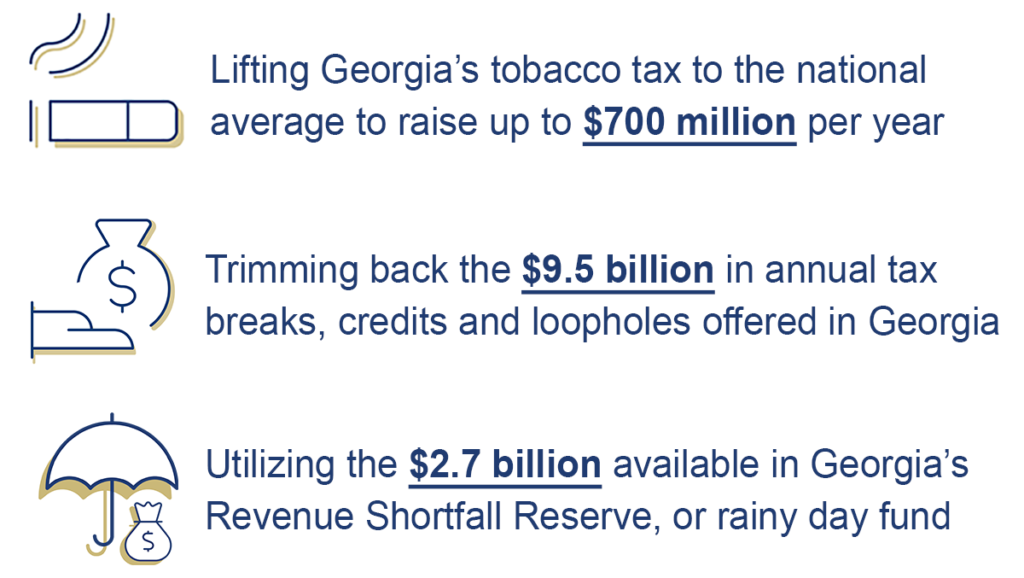 Write your legislator today to let them know that they have commonsense options to jumpstart recovery in Georgia, fully fund schools and improve the lives of millions of Georgians in every community across the state.