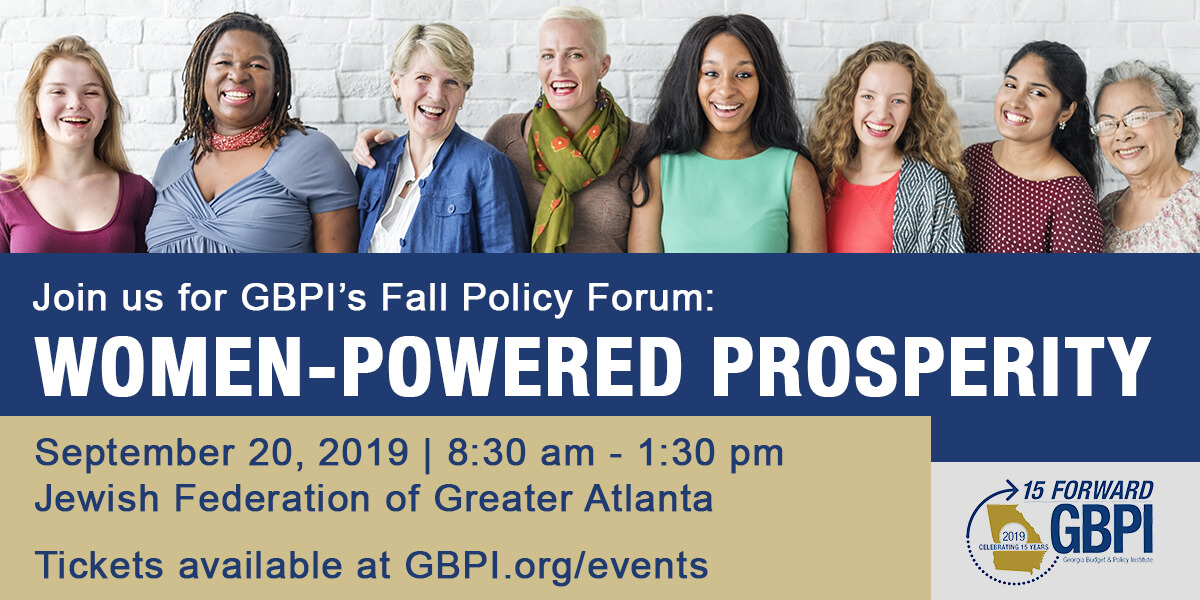 Last Friday we held our fall policy forum, and over 150 attendees left the event ready to take action to expand economic opportunity for women.
Attendees heard from our keynote, banking expert and UC Irvine law professor Mehrsa Baradaran. She presented a historical look at how financial institutions have left women and people of color behind. In conversation with GBPI Executive Director Taifa Smith Butler, she talked about opportunities to overcome those barriers.
Rose Scott of WABE's "Closer Look" news program moderated our panel on how to expand economic opportunity for Georgia women. The panel featured Elise Blasingame, Executive Director at Healthy Mothers, Healthy Babies Coalition of Georgia; Leng Leng Chancey, National Executive Director at 9to5 and Tamieka Mosley of Grantmakers for Southern Progress. They looked at critical challenges facing women in Georgia and how women can mobilize to overcome them.
Photos of the event are here.
GBPI's senior policy Alex Camardelle also presented his new report, "Women-Powered Prosperity," an intersectional look at harnessing the economic power of Georgia women.
You can see his presentation here.
A special thanks to the Atlanta Women's Foundation for making Women-Powered Prosperity possible. Thank you to the Jewish Federation of Greater Atlanta, where we held the event, and to all of our sponsors and hosts.
2019 Sponsors
Leader
Annie E. Casey Foundation
Healthcare Georgia Foundation
---
Partner
Asian-Americans Advancing Justice-Atlanta
Cumming-Forsyth County Chamber of Commerce
Georgia Alliance for Progress
Georgia Council on Developmental Disabilities (GCDD)
Goodwill of North Georgia
Inked Well Writing Studio, LLC
United Way of Greater Atlanta
---
Friend
American Association of University Women-Atlanta
Atlanta Woman's Club
Cohen Family Foundation
Frank Family Foundation
Georgia Alliance to End Homelessness
Georgia Food Bank Association
Glenda and David Minkin
Jewish Women's Fund of Atlanta
Kathy B. Ashe
Sachin and Serene Varghese
Soda Web Media
Statewide Independent Living Council of GA
Host Committee
Betty and Davis Fitzgerald Foundation
Closing the Women's Wealth Gap
Creative Research Solutions
Elise Blasingame
Georgia Early Education Alliance for Ready Students (GEEARS)
Krista Brewer