Key Takeaways:
Georgia is three days away from prematurely cutting pandemic unemployment insurance (UI). The changes will harm an estimated 347,000 Georgians and sever all UI safety net protections for 104,000 self-employed, gig-workers and part-time workers.
Prematurely cutting pandemic UI threatens to erode the worker power it was meant to create by undermining leverage for livable pay and benefits in frontline low-wage industries, particularly restaurants, whose workers have historically been inadequately protected.
Labor market data outweighs anecdotal claims that pandemic UI has disincentivized work, as Georgians who lost jobs in Food and Accommodation, Manufacturing and Construction have left the unemployment insurance rolls faster than nearly 80 percent of jobless workers in all other industries.
Beginning June 27, Georgia will no longer administer unemployment insurance (UI) programs created under federal pandemic relief legislation. These programs include Federal Pandemic Unemployment Compensation (FPUC), Pandemic Extended Unemployment Compensation (PEUC) and Pandemic Unemployment Assistance (PUA). On the same day, Georgia will also reinstate work search requirements for UI recipients, reduce the amount of weekly earned income allowed while receiving UI benefits from $300 to $150 and reinstate taxes charged to employers for workers who receive UI, are laid off or leave because of unreasonable conditions such as workplace harassment.
Georgia is Still Healing
State leaders are choosing to prematurely cut federal UI programs even as Georgia is still healing from an unprecedented public health and economic shockwave. The Georgia Department of Labor (DOL) has not announced plans to reopen in-person career centers meant to serve workers in search of work. Moreover, Georgia sits at only a 34 percent vaccination rate, ranking behind 44 other states (as of June 11, 2021). This is a unique dynamic which can partially be attributed to vaccine access barriers among low-wage earners with poor transportation options or inflexible work schedules. The low vaccination rate can also serve as a deterrent to some UI recipients considering frontline jobs with higher health risks.
State employment levels have steadily grown but remain 30 percent below that of February 2020, with 185,400 fewer jobs filled. Nearly 7,000 jobs were filled in May, including growth in the hospitality and manufacturing industries, signaling an economy that continues to heal as workers find suitable jobs. However, if Georgia's monthly rate of pre-pandemic job growth from February 2019 to February 2020 is used to calculate where it would be if the COVID pandemic never happened, the state would be seeing 457,000 more jobs than currently available. Also, weekly levels of newly jobless Georgians turning to the UI safety net remain more than four times greater than pre-pandemic February 2020.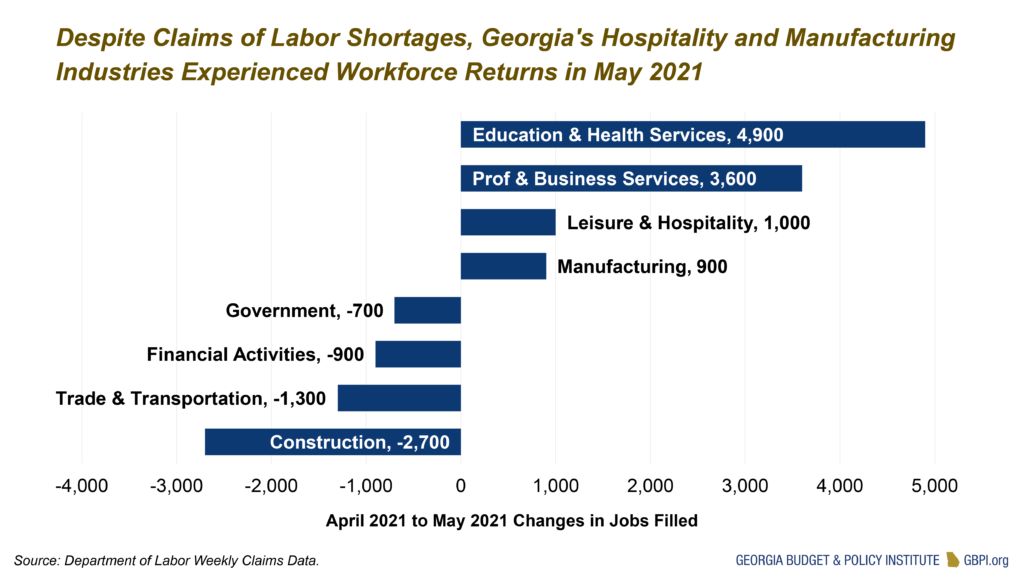 Georgia's choices to cut federal UI safety net programs are estimated to reduce or completely eliminate pandemic benefits for more than 347,000 Georgians; corner vulnerable workers into accepting jobs that are unsuitable matches to their skillsets and offer unlivable or lower wages and fewer benefits than their previous job; worsen inequities in pay and wealth across race, ethnicity and gender; and turn away tens of millions of dollars in federal investments that can bolster Georgia's economy.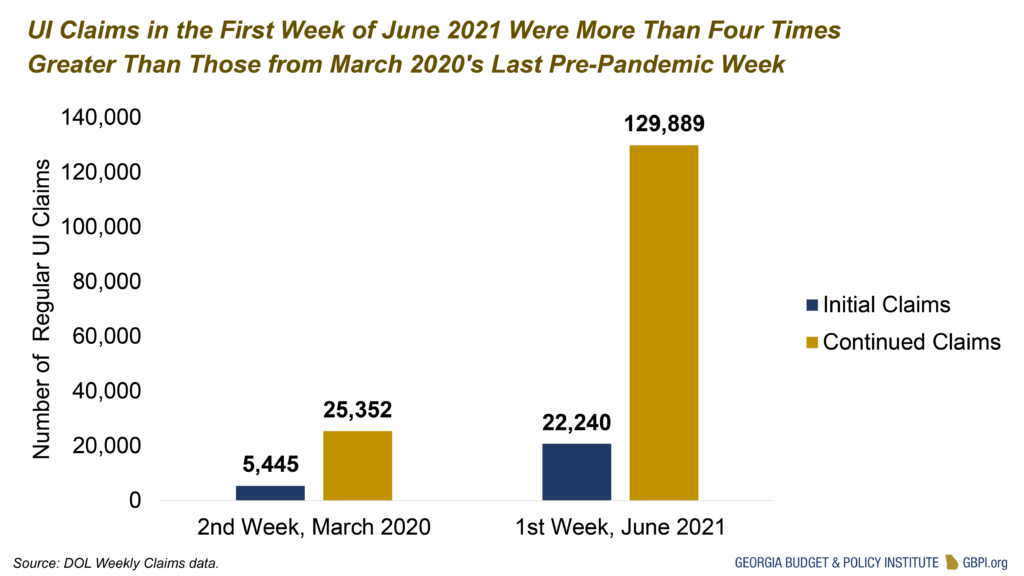 By prematurely cutting federal UI programs, state leaders are at best discounting, and at worst ignoring, UI enrollment data by industry. This data disproves anecdotes that have prompted these harmful choices—coming primarily from some employers in manufacturing, construction and restaurants—that federal UI programs have significantly disincentivized Georgians from leaving UI rolls and returning to the workforce. Data shows that Georgia workers who lost jobs in those industries have May 2021 UI enrollment levels that are at least 88 percent lower than they were in April 2020. Furthermore, UI enrollment declines in these three industries have exceeded 85 percent, far better than most other industries in Georgia. These UI enrollment decline trends also align with April declines in Pandemic Extended Unemployment Compensation (PEUC) payments to long-term unemployed Georgians who exhausted the 26 weeks of regular UI payments, suggesting that in April, Georgians receiving regular UI benefits did not transition to extended PEUC benefits for the long-term unemployed. Instead, they transitioned out of UI benefits altogether as they began finding employment. If the anecdotes were true, we would see the opposite of what's shown in UI enrollment trends data.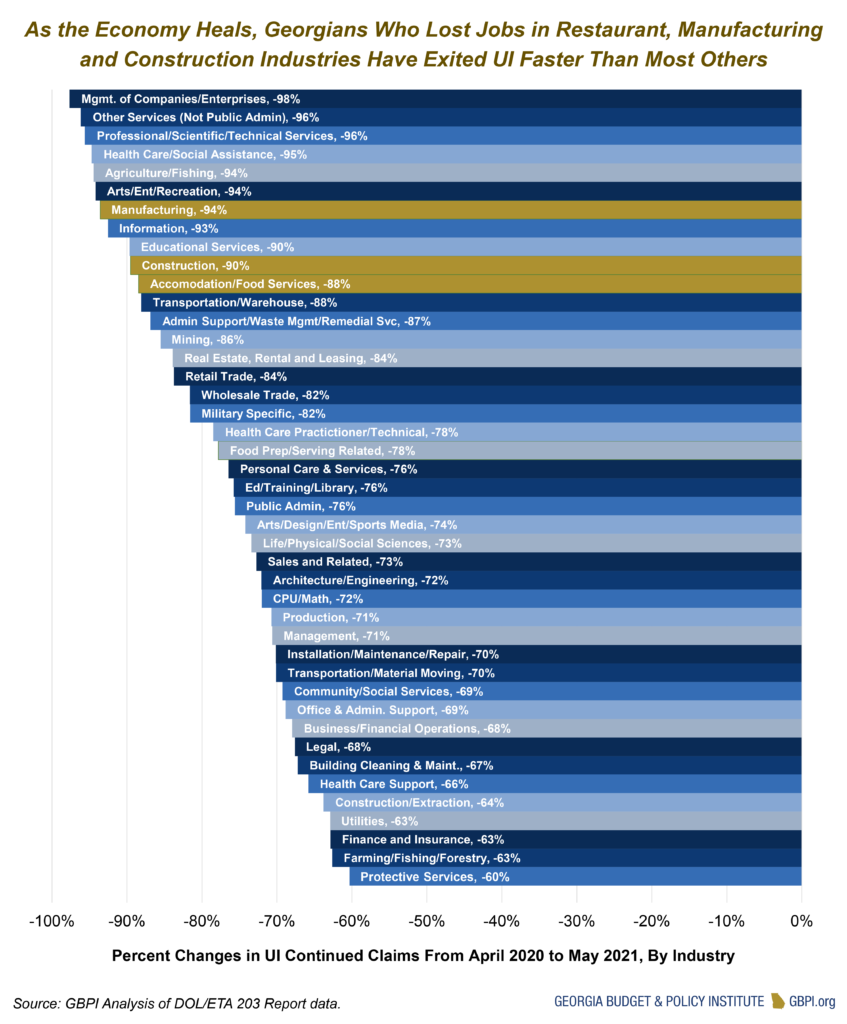 Prematurely cutting federal UI programs will also worsen the pandemic's effects for many of those who have experienced the slowest recovery: workers of color, women who remain out of the workforce due to child care barriers and non-traditional workers. Among all Georgians who turned to jobless aid from the height of pandemic job loss in April 2020, to May 2021, UI enrollment declined by 84 percent, signaling an economy that is healing. However, as with other labor market indicators, a holistic understanding of pandemic UI programs' impacts can only be found through several measures that are disaggregated where possible.
From the start of pandemic-level UI enrollment in April 2020, up to May 2021, UI enrollment among Black and Hispanic/Latinx workers declined at a pace nearly 10 percent slower than white and Asian workers, marking a recovery that has been slower to reach Black and Hispanic/Latinx Georgians. Among Georgia's jobless workers still turning to the UI safety net in May, claims among Black Georgians were 37 percent higher than all others. These racial disparities are often linked to the "last hired, first fired" phenomenon, a form of systemic racism characterized by workers of color facing hiring discrimination, being disproportionately placed in jobs with higher layoff risks during recessions, being disproportionately chosen for layoffs and/or confronting organizational shifts that disparately impact them.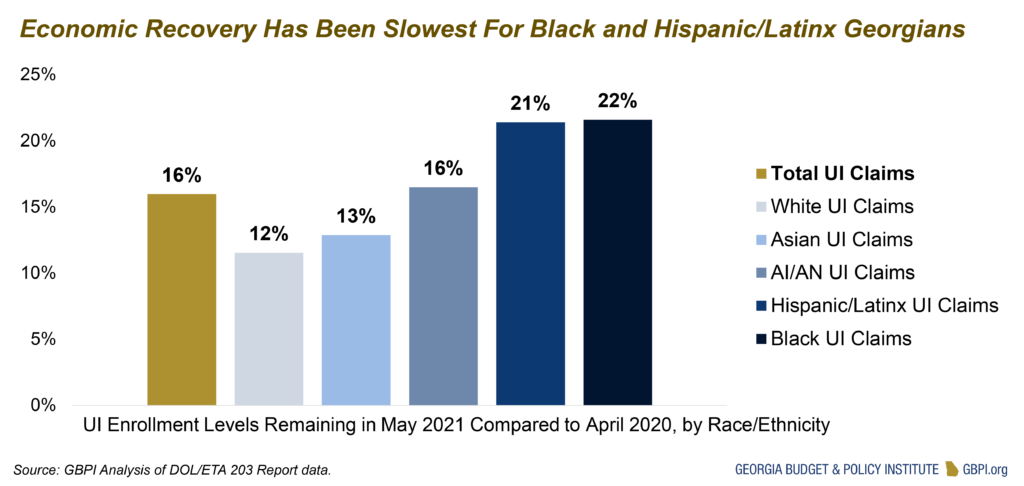 Removing Pandemic UI Protections Will Widen Gender Inequities
In May 2021, Georgia women who were jobless turned to the UI safety net 11 percent more than men. Child care barriers remain a significant hurdle for women who want to regain employment. Among recently surveyed women who couldn't access daycare or child care in the last four weeks because of COVID-related barriers, 11 percent reported that they recently lost a job because of child care responsibilities, 3 percent said they did not look for employment due to child care responsibilities and 35 percent said they cut their work hours to care for their children. Disparities in UI take-up among jobless men and women are also attributed to disproportionate shares of women who worked in restaurant and hospitality industries, which experienced the heaviest shares of pandemic job losses, and contributed to the higher shares of unemployed women in Georgia. And while upcoming monthly payments through federal child tax credit expansions will be helpful to parents who are unemployed, they cannot fully replace the amount of safety net dollars lost from the untimely removal of federal UI programs. The end of these programs in Georgia threatens to place a disproportionate share of unemployed women and mothers in economic hardship and widen the gender pay and wealth gap by forcing women to take unsuitable jobs that pay lower wages, poorly match their skillsets and likely delay their career progress by years.
Georgia Cannot Abandon Its Non-Traditional Workforce
The June 27 removal of federal UI programs also threatens to pull the floor from an estimated 104,000 jobless non-traditional workers and push them further into economic hardship. For example, the Pandemic Unemployment Assistance (PUA) program provides a safety net for those who are self-employed, independent contractors, part-time or other non-traditional workers in need of jobless aid while they seek new employment in a healing economy. None of these workers would qualify for unemployment insurance under Georgia's existing system. Non-traditional workers currently, on average, comprise more than half of all jobless workers turning to Georgia's UI safety net. Furthermore, in May, more than 84 percent of all non-traditional workers turning to PUA were displaced from employment that was less than full-time.
Underemployment, which includes those who can only find part-time work for economic reasons, has been highest and most persistent among workers of color. In the first quarter of this year, underemployment in Georgia was highest among Black men, at 18 percent, and 16 percent among Black women, nearly doubling that of white men and women. By providing a floor for underemployed Georgians of color suffering pandemic job loss, PUA has served as an anti-racist tool that protects this segment of the workforce. Many in this segment are employed in service industries including food and accommodation services and hospitality and are disproportionately workers of color whose wages and worker protections have historically been willfully neglected by policymakers at every level of government.
Recommendations
The data underscores the need for a comprehensive state UI system that supports self-employed individuals, "gig workers" and part-time workers currently excluded from traditional UI. Georgia's abrupt plans to end pandemic UI programs also highlight the need for a modernized unemployment system that institutes automatic triggers that are more aligned with labor market indicators, insulates jobless workers from the volatility of legislative politics during economic uncertainty, and responds to jobless applicants in a manner that is more timely, efficient and equitable. Additional federal standards are also needed through congressional action, to establish baselines which prohibit UI coverage barriers that disproportionately exclude women and workers of color, require a minimum national wage replacement rate and set a minimum of 26 weeks of regular UI benefits.
Georgia's labor market and unemployment safety net cannot return to its pre-pandemic state. Instead, leaders can choose options that will build a better Georgia. Prematurely removing pandemic UI programs will not increase the number of workers if they cannot yet return to the workforce because of child care barriers or health concerns. It won't create a stronger labor market if it erodes the worker power that pandemic unemployment insurance was created to give: economic security and time to retool and return to the workforce with good options for suitable, stable and livable employment. Rather, these policy actions will force jobless hospitality, manufacturing and construction workers to make unsuitable job choices. These actions will also punish jobless workers in other sectors who are desperate to find work and who will then take jobs that are actually more suitable for someone else. Workers with a mismatch between their position and skillset will inevitably leave those positions for better-suited ones, leading to greater turnover and increased hiring costs for employers, which ultimately harms Georgia's labor market and long-term economic growth.
Georgia's planned actions are reminiscent of those following the Great Recession. Actions which failed to adequately invest in our state's recovery prolonged economic hardship and stifled prosperity for thousands of Georgians. State leaders have an opportunity to make better choices that can offer all Georgians the opportunity to realize an equitable recovery, and place Georgia on the right side of history. We can still change course. It is not too late.